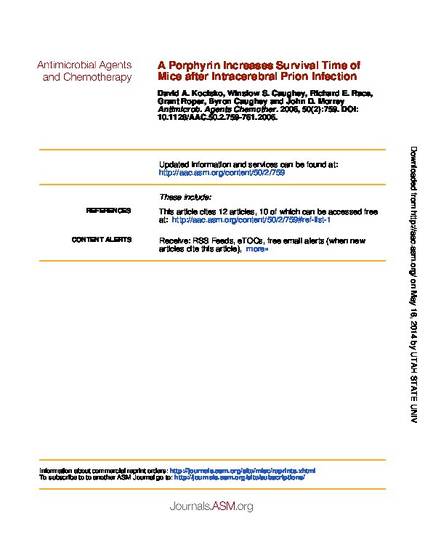 Article
A Porphyrin Increases Survival Time of Mice after Intracerebral Prion Infection
Antimicrobial Agents and Chemotherapy (2006)
Abstract
Prion diseases, including scrapie, are incurable neurodegenerative disorders. Some compounds can delay disease after a peripheral scrapie inoculation, but few are effective against advanced disease. Here, we tested multiple related porphyrins, but only Fe(III)meso-tetra(4-sulfonatophenyl)porphine injected into mouse brains after intracerebral scrapie inoculation substantially increased survival times.
Keywords
porphyrin,
survival,
mice,
intracerebral,
prion infection
Publication Date
January 1, 2006
Citation Information
Kocisko, D.A., W. S. Caughey, R.E. Race, G. Roper, B. Caughey, and J.D. Morrey 2006. A porphyrin increases survival time of mice after intracerebral prion infection. Antimicrobial Agents and Chemotherapy 50: 759-61.