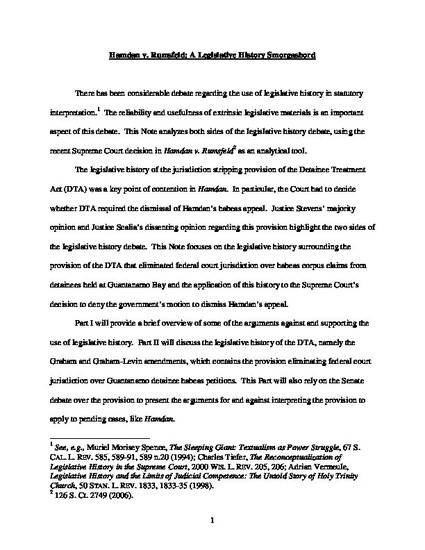 Unpublished Paper
Hamdan v. Rumsfeld: A Legislative History Smorgasbord
ExpressO (2008)
Abstract
The Supreme Court in Hamdan v. Rumsfeld denied the government's motion to dismiss the habeas appeal of Hamdan, bin Laden's driver, who was being held at Guantanamo Bay. The majority, led by Justice Stevens, determined that the recently passed Detainee Treatment Act (DTA), which eliminated federal court jurisdiction to hear habeas appeals from detainees held at Guantanamo Bay, did not apply to pending cases, like Hamdan's. This interpretation was supposedly strongly buttressed by the legislative history of the DTA. This essay outlines the arguments of the opponents and proponents of the use of legislative history, and then juxtaposes these arguments against the Court's use of the DTA's legislative history in Hamdan. This analysis shows that the concerns put forward by legislative history opponents are quite legitimate and that the rebuttals offered by legislative history's defenders, in practice, fall short. The conclusion that the majority's analysis and use of legislative history in Hamdan was, at a minimum, flawed is greatly strengthened by the passage of the Military Commissions Act (MCA). The MCA, passed within months of the Hamdan decision, repeatedly stressed Congress's desire to remove all Guantanamo habeas claims from federal courts, including pending cases. In short, the majority decision in Hamdan is a perfect example of why judges should not use legislative history in statutory interpretation.
Keywords
legislative history,
detainee,
statutory interpretation,
Detainee Treatment Act,
Military Commission Act
Publication Date
March 23, 2008
Citation Information
John J. Miller. "Hamdan v. Rumsfeld: A Legislative History Smorgasbord"
ExpressO
(2008)
Available at: http://works.bepress.com/john_miller/1/