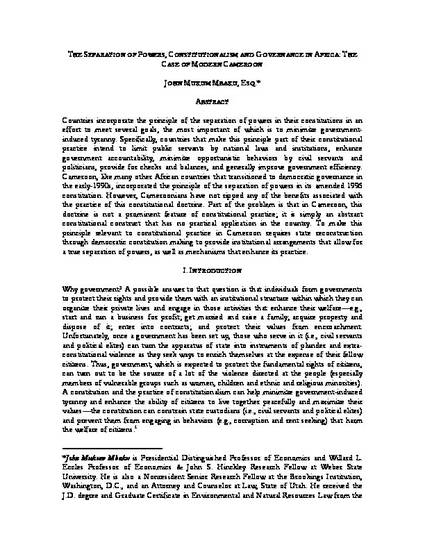 Unpublished Paper
The Separation of Powers, Constitutionalism and Governance in Africa: The Case of Modern Cameroon
ExpressO (2013)
Abstract
The Separation of Powers, Constitutionalism and Governance in Africa: The Case of Modern Cameroon
John Mukum Mbaku, Esq.
Abstract
Countries incorporate the principle of the separation of powers in their constitutions in an effort to meet several goals, the most important of which is to minimize government-induced tyranny. Specifically, countries that make this principle part of their constitutional practice intend to limit public servants by national laws and institutions, enhance government accountability, minimize opportunistic behaviors by civil servants and politicians, provide for checks and balances, and generally improve government efficiency. Cameroon, like many other African countries that transitioned to democratic governance in the early-1990s, incorporated the principle of the separation of powers in its amended 1996 constitution. However, Cameroonians have not ripped any of the benefits associated with the practice of this constitutional doctrine. Part of the problem is that in Cameroon, this doctrine is not a prominent feature of constitutional practice; it is simply an abstract constitutional construct that has no practical application in the country. To make this principle relevant to constitutional practice in Cameroon requires state reconstruction through democratic constitution making to provide institutional arrangements that allow for a true separation of powers, as well as mechanisms that enhance its practice.
Keywords
separation of powers,
constitutional practice,
checks and balances,
government efficiency,
government tyranny
Publication Date
March 28, 2013
Citation Information
JOHN MUKUM MBAKU. "The Separation of Powers, Constitutionalism and Governance in Africa: The Case of Modern Cameroon"
ExpressO
(2013)
Available at: http://works.bepress.com/john_mbaku/7/