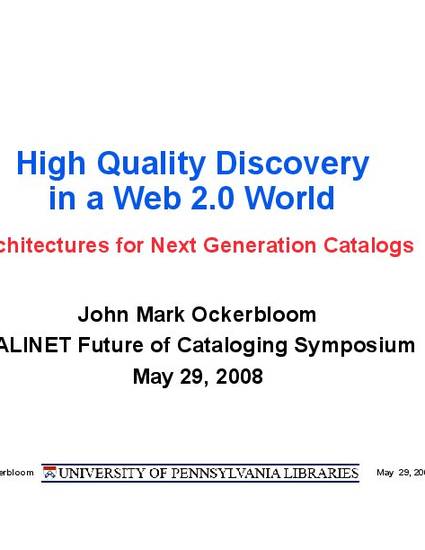 Presentation
High Quality Discovery in a Web 2.0 World: Architectures for Next Generation Catalogs
PALINET Symposium "The Future of Cataloging" (2008)
Abstract
Issues of information and systems architecture underly many of the current debates over the future of cataloging. This talk discusses some ways in which the architecture of the catalog is being redesigned to combine the rich information architecture of library metadata with the robust systems architecture of many Web-based discovery systems. I will show "subject map" discovery systems that better exploit the relationships in complex ontologies like LCSH, and discuss a Digital Library Federation initiative to promote standards supporting interoperability between discovery systems and ILS data and services. I will also touch on the role of networked architectures in improving the quality and efficiency of library cataloging.
Keywords
architecture,
subject maps,
interoperability,
ILS-DI
Publication Date
May 29, 2008
Citation Information
John Mark Ockerbloom. "High Quality Discovery in a Web 2.0 World: Architectures for Next Generation Catalogs"
PALINET Symposium "The Future of Cataloging"
(2008)
Available at: http://works.bepress.com/john_mark_ockerbloom/6/