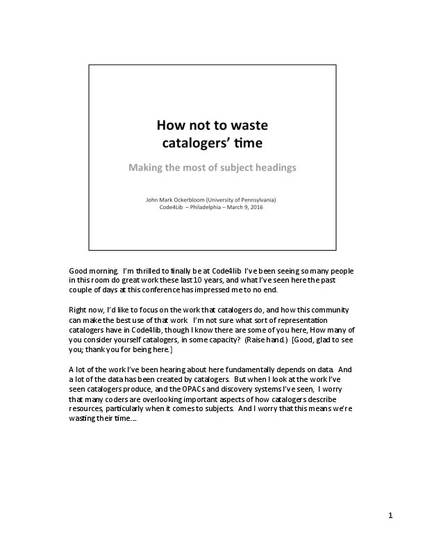 Presentation
How Not to Waste Catalogers' Time: Making the most of subject headings
Code4Lib 2016 (2016)
Abstract
The subject descriptions of well-cataloged library resources have rich semantics, but most online catalogs and discovery systems do not take full advantage of them, and the headings assigned by librarians do not always match the descriptions users expect. This session features ideas, demonstrations, and discussion on how we can improve the design and the data in our catalogs and discovery systems to improve discovery of relevant materials. It will focus on how to better take advantage of the kinds of data that catalogers already create. Topics to be discussed include:
-- How to take advantage of subject heading order in summaries and in relevance ranking of user searches.
-- How to use relationships between subject headings, both those explicitly stated in authority data, and those that can be automatically inferred from data, to improve browsing and search.
-- How to exploit the respective strengths (and work around the respective weaknesses) of LCSH, FAST, and Wikipedia in subject searches.
Keywords
cataloging,
metadata,
subjects
Publication Date
March 9, 2016
Location
Philadelphia, PA
Citation Information
John Mark Ockerbloom. "How Not to Waste Catalogers' Time: Making the most of subject headings"
Code4Lib 2016
(2016)
Available at: http://works.bepress.com/john_mark_ockerbloom/19/