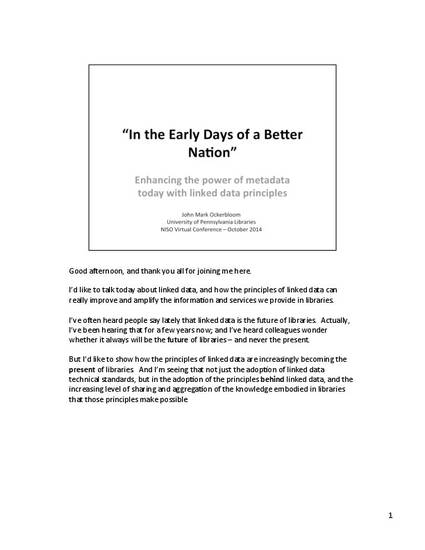 Presentation
"in the Early Days of a Better Nation": Enhancing the power of metadata today with linked data principles
NISO Virtual Conference: Using the Web as an E-Content Distribution Platform: Challenges and Opportunities (2014)
Abstract
We need not wait for the wholesale redesign of metadata and workflows to semantic web and linked data technologies in order to begin taking advantage of their design principles. This talk will show how metadata organized and presented in ways that encourage sharing, widespread reuse, and broad collaboration organized around community "hubs" can significantly improve resource discovery as well as other library services and information needs. Examples will be shown from systems designed around linked data standards and technologies and systems not so designed. While standard linked data formats and interfaces can aid in metadata reuse and maintenance, more general design principles and commitments to support broad metadata collaboration can be more important, and need not wait for adoption of specific technologies.
Keywords
linked data,
RDF,
open data,
CC0,
Creative Commons,
mashups
Publication Date
October 22, 2014
Citation Information
John Mark Ockerbloom. ""in the Early Days of a Better Nation": Enhancing the power of metadata today with linked data principles"
NISO Virtual Conference: Using the Web as an E-Content Distribution Platform: Challenges and Opportunities
(2014)
Available at: http://works.bepress.com/john_mark_ockerbloom/17/