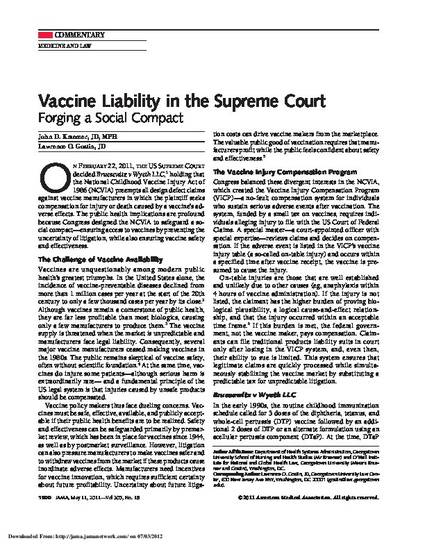 Article
Vaccine Liability in the Supreme Court: Forging a Social Compact
JAMA (2011)
Abstract
In its decision in Bruesewitz v. Wyeth LLC, the Supreme Court ruled that state products liability suits that allege design defects in vaccines are preempted by the National Childhood Vaccine Injury Act. This decision, the third in a trilogy of Supreme Court preemption cases that deal with products liability suits for health commodities, preserves the Vaccine Injury Compensation Program and the delicate balance between ensuring the vaccine supply and compensating injuries that it enables. Failing to preempt state product liability suits would have exposed vaccine manufacturers to substantial litigation costs defending unfounded claims about autism.
Citation Information
John D Kraemer and Lawrence O Gostin. "Vaccine Liability in the Supreme Court: Forging a Social Compact"
JAMA
Vol. 305 (2011)
Available at: http://works.bepress.com/john_kraemer/3/