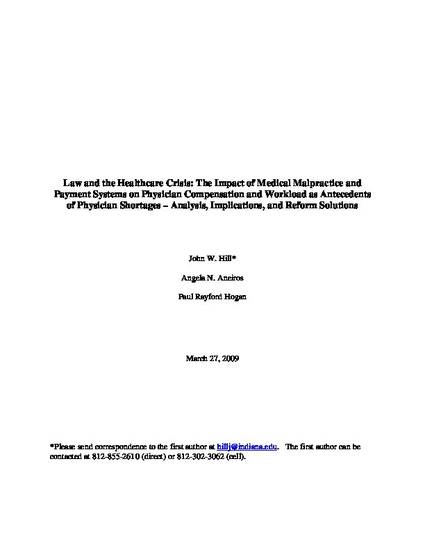 Unpublished Paper
Law in the Healthcare Crisis
ExpressO (2009)
Abstract
The U.S. faces a healthcare crisis of monumental proportions with myriad facets including issues of access, quality, and affordability. Medical malpractice liability in this crisis is often alleged to play a role in this crisis through its impact on physician compensation and shortages. This study goes beyond the rhetorical arguments in exposing the root causes of the crisis to be the structure of healthcare delivery and physician compensation systems, in part using pooled data we develop. These systems greatly increase the cost of healthcare, lead to far too many medical errors, and skew the distribution of physicians across specialties, in part because the current compensation structure provides inappropriate treatment incentives. Rather than simplistic tort reform solutions such as direct caps on damages, we argue that the real answer to the healthcare crisis resides in new and evolving models of healthcare delivery and reimbursement that hold promise of improving the quality of care and decreasing the number of medical malpractice cases. At the same time, these new systems present new challenges for an already deficient regime for resolving malpractice claims which needs to be reformed to complement the new delivery and reimbursement systems. We propose pragmatic changes to the current malpractice regime predicated on five pillars: (1) mandated price and quality disclosure of healthcare services, (2) a focus on enterprise liability in which the medical entity responsible for care is the defendant as opposed to individual physicians, (3) mandated disclosure of medical errors to patients, (4) mandated, non-binding mediation the function of which is to avoid costly, protracted trials and long delays in patient compensation whenever possible, and (5) mandated disclosure of medical errors in settled cases. We argue that this approach will provide appropriate incentives to allow for needed systemic change that discourages discourage under treatment and better serve the needs of tort victims.
Keywords
Healthcare,
Tort Reform,
Medicare
Publication Date
April 15, 2009
Citation Information
John W Hill. "Law in the Healthcare Crisis"
ExpressO
(2009)
Available at: http://works.bepress.com/john_hill/3/