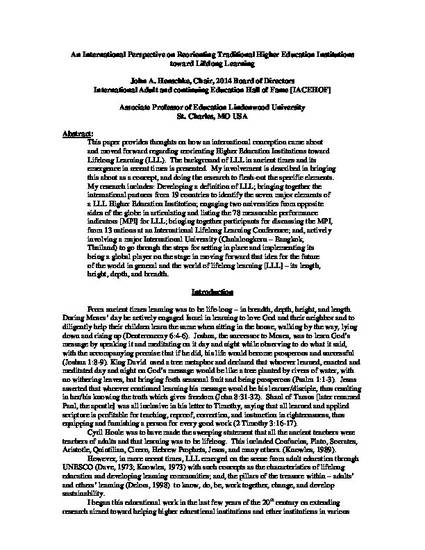 Presentation
An International Perspective on Reorienting Traditional Higher Education Institutions toward Lifelong Learning
Fourth International Conference on Adult Education - Adult Education in Universities - Local and Regional Perspectives (2014)
Abstract
This paper provides thoughts on how an international conception came about and moved forward regarding reorienting Higher Education Institutions toward Lifelong Learning (LLL). The background of LLL in ancient times and its emergence in recent times is presented. My involvement is described in bringing this about as a concept, and doing the research to flesh-out the specific elements. My research includes: Developing a definition of LLL; bringing together the international partners from 19 countries to identify the seven major elements of a LLL, Higher Education Institution, engaging two universities from opposite sides of the globe in articulating and listing the 78 measurable performance indicators (MPI) for LLL; bringing together participants for discussing the MPI, from 13 nations at an International Lifelong Learning Conference; and actively involving a major International University (Chulalongkorn - Bangkok, Thailand) to go through the steps for settiing in place and implementing its being a global player on the stage in moving forward that idea for the future of the world in general and the world of lifelong learning (LLL) - its length, height, depth, and breadth.
Publication Date
April 30, 2014
Citation Information
John A. Henschke. "An International Perspective on Reorienting Traditional Higher Education Institutions toward Lifelong Learning"
Fourth International Conference on Adult Education - Adult Education in Universities - Local and Regional Perspectives
(2014)
Available at: http://works.bepress.com/john_henschke/9/