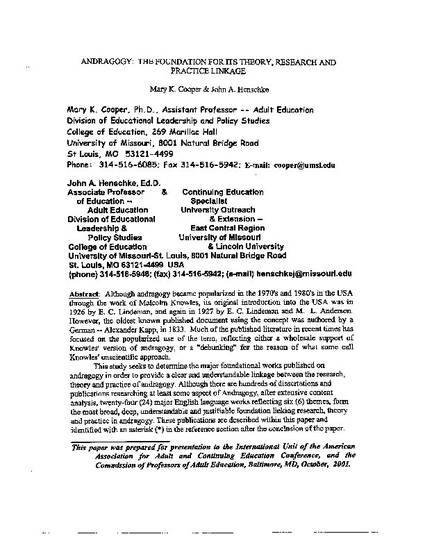 Presentation
Andragogy: The Foundation for Its Theory, Research and Practice Linkage
Commissions of Professors of Adult Education Conference (2001)
Abstract
Although andragogy became popularized in the 1970's and 1980's in the USA through the work of Malcolm Knowles, its original introduction into the USA was in 1926 by E.C. Lindeman, and again in 1927 by E. C. Lindeman and M. L. Anderson. However, the oldest known published document using the concept was authored by a German -- Alexander Kapp, in 1833. Much of the published literature in recent times has focused on the popularized use of the term, reflecting either a wholesale support of Knowles' version of andragogy, or a "debunking" for the reason of what some call Knowles' unscientific approach. This study seeks to determine the major foundational works published on andragogy in order to provide a clear and understandable linkage between the research, theory and practice of andragogy. Although there are hundreds of dissertations and publications researching at least some aspect of Andragogy, after extensive content analysis, twenty-four (24) major English language works reflecting six (6) themes, form the most broad, deep, understandable and justifiable foundation linking research, theory and practice in andragogy. These publications are described within this paper and identified with an asterisk (*) in the reference section after the conclusion of the paper.
Citation Information
John A. Henschke and Mary K. Cooper. "Andragogy: The Foundation for Its Theory, Research and Practice Linkage"
Commissions of Professors of Adult Education Conference
(2001)
Available at: http://works.bepress.com/john_henschke/43/