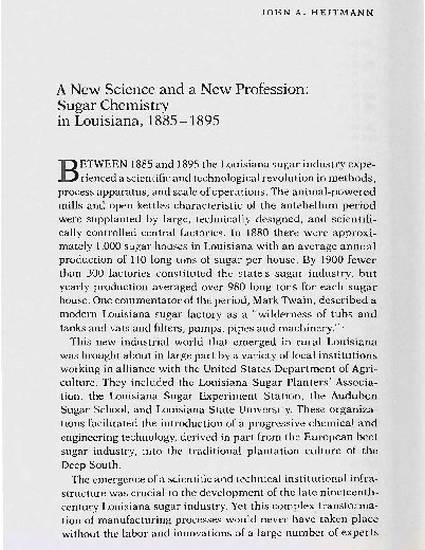 Contribution to Book
A New Science, and a New Profession: Sugar Chemistry in Louisiana, 1885-1895
Essays on the History of Organic Chemistry
Document Type
Book Chapter
Publication Date
1-1-1987
Abstract
Between 1885 and 1895 the Louisiana sugar industry experienced a scientific and technological revolution in methods, process apparatus, and scale of operations. The animal-powered mills and open kettles characteristic of the antebellum period were supplanted by large, technically designed, and scientifically controlled central factories . In 1880 there were approximately 1,000 sugar houses in Louisiana with an average annual production of 110 long tons of sugar per house. By 1900 fewer than 300 factories constituted the state's sugar industry, but yearly production averaged over 980 long tons for each sugar house. One commentator of the period, Mark Twain, described a modern Louisiana sugar factory as a "wilderness of tubs and tanks and vats and filters, pumps, pipes and machinery."1 This new industrial world that emerged in rural Louisiana was brought about in large part by a variety of local institutions working in alliance with the United States Department of Agriculture. They included the Louisiana Sugar Planters' Association, the Louisiana Sugar Experiment Station, the Audubon Sugar School, and Louisiana State University. These organizations facilitated the introduction of a progressive chemical and engineering technology, derived in part from the European beet sugar industry, into the traditional plantation culture of the Deep South.
Document Version
Published Version
Copyright
Copyright © 1987, Louisiana State University Press
Publisher
Louisiana State University Press
Place of Publication
Baton Rouge, LA
Citation Information
John Alfred Heitmann. "A New Science, and a New Profession: Sugar Chemistry in Louisiana, 1885-1895"
Essays on the History of Organic Chemistry
(1987)
Available at: http://works.bepress.com/john_heitmann/40/