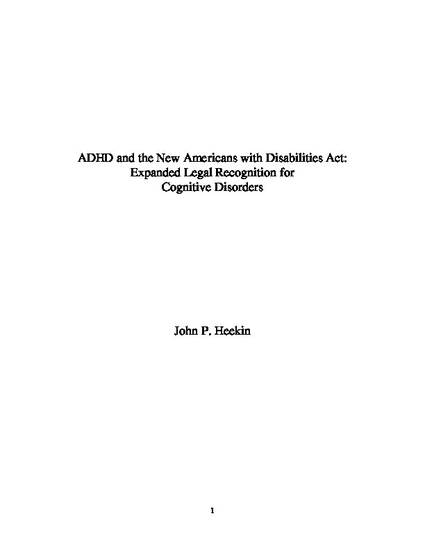 Unpublished Paper
ADHD and the New Americans with Disabilities Act: Expanded Legal Recognition for Cognitive Disorders
ExpressO (2010)
Abstract
The author assesses the likely impact of the recent amendments to the Americans with Disabilities Act of 1990, broadening the definition of a "disability," upon the legal treatment of discrimination claims from individuals with cognitive disorders, such as Attention-Deficit Hyperactivity Disorder (ADHD). The paper begins with a review of the symptoms, diagnosis and treatments of ADHD, noting that remedies for the disorder fail to fully "normalize" its effects, leaving individuals impaired in relation to their peers. The author then presents the original ADA and its administrative interpretation issued in the Equal Employment Opportunity Commission's Compliance Manual. From there, the paper proceeds to review the Supreme Court decisions in Sutton and Toyota Motor, as well as a Sixth Circuit case dealing specifically with ADHD, each of which narrowly interpreted the legislation, despite the congressional intent behind the ADA and the EEOC's guidelines for its implementation. The author then presents the Americans with Disabilities Act Amendments Act of 2008, which explicitly intends to broaden the scope of protected disabilities by counteracting the negative holdings in Sutton and Toyota Motor. Finally, applying the newly-amended provisions of the ADA, the author hypothesizes the likely impact upon the judicial recognition of ADHD as a disability qualifying for protection against discrimination under the Act.
Keywords
Americans with Disabilities,
disability,
ADHD,
ADD,
attention-deficit hyperactivity disorder,
discrimination,
Sutton,
Toyota Motor,
Knapp,
cognitive disorder
Publication Date
April 24, 2010
Citation Information
John P. Heekin. "ADHD and the New Americans with Disabilities Act: Expanded Legal Recognition for Cognitive Disorders"
ExpressO
(2010)
Available at: http://works.bepress.com/john_heekin/2/