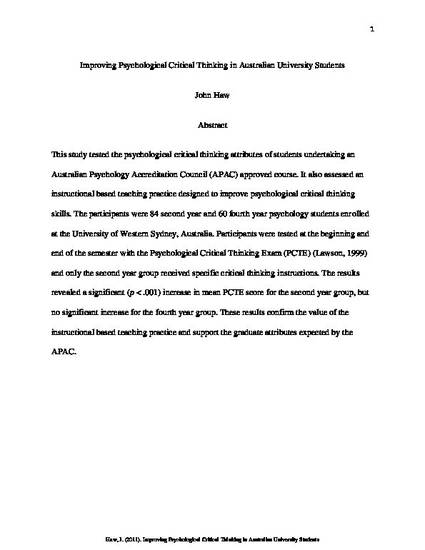 Article
Improving psychological critical thinking in Australian university students
The Australian Journal of Psychology
Publication Date
12-1-2011
Peer Reviewed
Peer-Reviewed
Abstract
This study tested the psychological critical thinking attributes of students undertaking an Australian Psychology Accreditation Council (APAC) approved course. It also assessed an instructional based teaching practice designed to improve psychological critical thinking skills. The participants were 84 second year and 60 fourth year psychology students enrolled at the University of Western Sydney, Australia. Participants were tested at the beginning and end of the semester with the Psychological Critical Thinking Exam (PCTE) (Lawson, 1999) and only the second year group received specific critical thinking instructions. The results revealed a significant (p < .001) increase in mean PCTE score for the second year group, but no significant increase for the fourth year group. These results confirm the value of the instructional based teaching practice and support the graduate attributes expected by the APAC.
Citation Information
Post-print of: Haw, J 2011, 'Improving psychological critical thinking in Australian university students', Australian Journal of Psychology, vol. 63, no. 3, pp. 150-153.
The definitive version is available at: http://dx.doi.org/10.1111/j.1742-9536.2011.00018.x