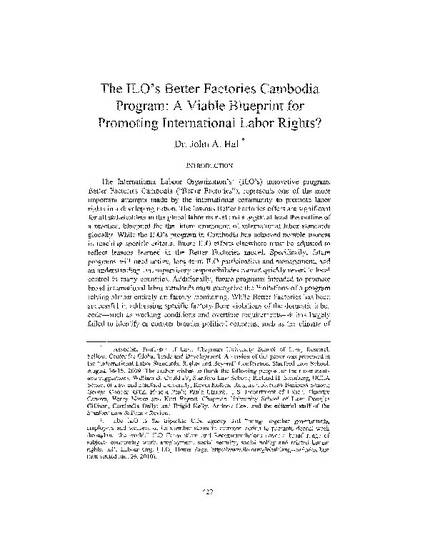 Article
A Viable "Sweatshop Free" Model? The ILO's Better Factories Program and Labor Rights in Cambodia's Garment Industry
Stanford Law & Policy Review (2010)
Abstract
The International Labour Organization's (ILO' s) innovative program, Better Factories Cambodia ("Better Factories"), represents one of the more important attempts made by the international community to promote labor rights in a developing nation. The lessons Better Factories offers are significant for all stakeholders in the global labor market and suggest at least the outline of a practical blueprint for the future promotion of international labor standards globally. While the ILO's program in Cambodia has achieved notable success in reaching specific criteria, future ILO efforts elsewhere must be adjusted to reflect lessons learned in the Better Factories model. Specifically, future programs will need active, ILO participation and management, and an understanding that supervisory responsibilities cannot quickly revert to local control in many countries. Additionally, future programs intended to promote broad international labor standards must recognize the limitations of a program relying almost entirely on factory monitoring. While Better Factories has been successful in addressing specific factory-floor violations of the domestic labor code – such as working conditions and overtime requirements – it has largely failed to identify or counter broader political concern, such as the climate of corruption in which independent trade union leaders have been intimidated, brutalized, and murdered. Better Factories has undoubtedly won important battles in its factory-level campaign for labor rights, but the war will be lost if truly independent trade unions are not permitted to flourish and Cambodia follows the Chinese model of government-dependent unionism.
Keywords
ILO,
Better Factories,
Cambodia,
International Labor,
Labor Law
Citation Information
John A. Hall, A
Viable "Sweatshop Free" Model? The ILO's Better Factories Program and Labor Rights in Cambodia's Garment Industry
, 21
Stan. L. & Pol'y Rev.
427 (2010). Available at: http://works.bepress.com/john_hall/4