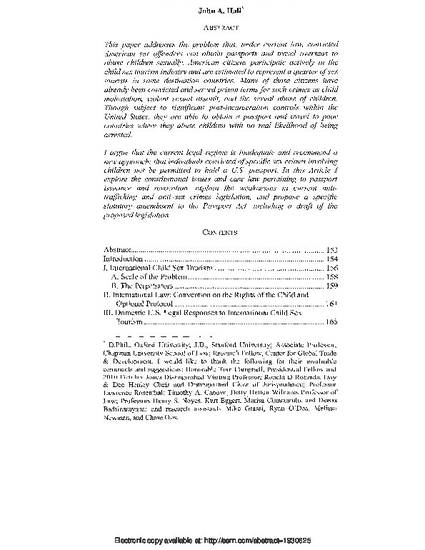 Article
Sex Offenders and Child Sex Tourism: The Case for Passport Revocation
Virginia Journal of Social Policy and the Law (2011)
Abstract
This paper addresses the problem that, under current law, convicted American sex offenders can obtain passports and travel overseas to abuse children sexually. American citizens participate actively in the child sex tourism industry and are estimated to represent a quarter of sex tourists in some destination countries. Many of those citizens have already been convicted and served prison terms for such crimes as child molestation, violent sexual assault, and the sexual abuse of children. Though subject to significant post-incarceration controls within the United States, they are able to obtain a passport and travel to poor countries where they abuse children with no real likelihood of being arrested.
I argue that the current legal regime is inadequate and recommend a new approach: that individuals convicted of specific sex crimes involving children not be permitted to hold a U.S. passport. In this Article I explore the constitutional issues and case law pertaining to passport issuance and revocation, explain the weaknesses in current anti-trafficking and anti-sex crimes legislation, and propose a specific statutory amendment to the Passport Act, including a draft of the proposed legislation.
Keywords
sex tourism,
anti-trafficking,
anti-sex crimes
Publication Date
Winter 2011
Citation Information
John A. Hall,
Sex Offenders and Child Sex Tourism: The Case for Passport Revocation,
18
Va. J. Soc. Pol'y & L.
153 (2011). Available at: http://works.bepress.com/john_hall/3