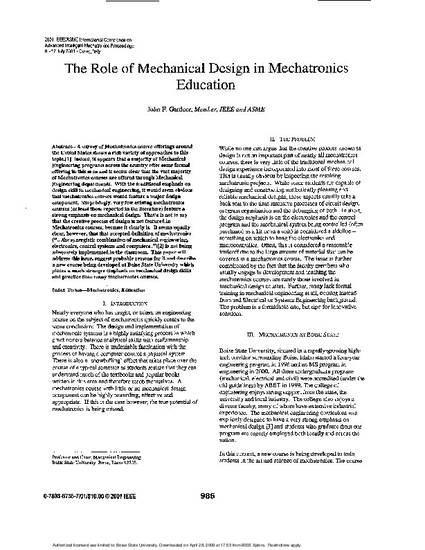 Contribution to Book
The Role of Mechanical Design in Mechatronics Education
IEEE/ASME International Conference on Advanced Intelligent Mechatronics, 2001. Proceedings
Document Type
Conference Proceeding
Publication Date
1-1-2001
Abstract
A survey of Mechatronics course offerings around the United States shows a rich variety of approaches to this topic.[1] Indeed, it appears that a majority of Mechanical Engineering programs across the county offer some formal offering in this area and it seems clear that the vast majority of Mechatronics courses are offered through Mechanical Engineering departments. With the traditional emphasis on design skill in mechanical engineering, it would seem obvious that mechatronics courses would feature a major design component. Surprisingly, very few existing mechatronics courses (at least those reported in the literature) feature a strong emphasis on mechanical design. That is not to say that the creative process of design is not featured in Mechatronics courses, because it clearly is. It seems equally clear, however, that that accepted definition of mechatronics ("...the synergistic combination of mechanical engineering, electronics, control systems and computers...")[2] is not being adequately implemented in the classroom. This paper will address this issue, suggest probable reasons for it and describe a new course being developed at Boise state University which places a much stronger emphasis on mechanical design skills and practice than many mechatronics courses.
Copyright Statement
This document was originally published by IEEE in IEEE/ASME International Conference on Advanced Intelligent Mechatronics, 2001. Proceedings. Copyright restrictions may apply. DOI: 10.1109/AIM.2001.936815
Citation Information
John Gardner. "The Role of Mechanical Design in Mechatronics Education"
IEEE/ASME International Conference on Advanced Intelligent Mechatronics, 2001. Proceedings
(2001)
Available at: http://works.bepress.com/john_gardner/7/