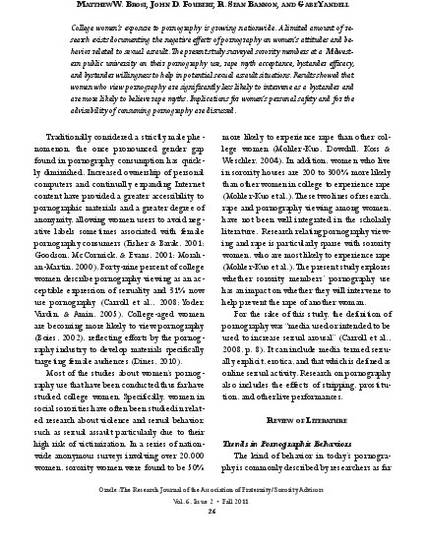 Article
Effects of women's pornography use on bystander intervention in a sexual assault situation and rape myth acceptance
Oracle: The Research Journal of the Association of Fraternity/ Sorority Advisors (2011)
Abstract
College women's exposure to pornography is growing nationwide. A limited amount of research exists documenting the negative effects of pornography on women's attitudes and behavior related to sexual assault. The present study surveyed sorority members at a Midwestern public university on their pornography use, rape myth acceptance, bystander efficacy, and bystander willingness to help in potential sexual assault situations. Results showed that women who view pornography are significantly less likely to intervene as a bystander and are more likely to believe rape myths. Implications for women's personal safety and for the advisability of consuming pornography are discussed.
Keywords
Sorority,
Pornography,
Rape,
Bystander
Citation Information
Matt W Brosi, John D. Foubert, R Sean Bannon and Gabriel Yandell. "Effects of women's pornography use on bystander intervention in a sexual assault situation and rape myth acceptance"
Oracle: The Research Journal of the Association of Fraternity/ Sorority Advisors
Vol. 6 Iss. 2 (2011)
Available at: http://works.bepress.com/john_foubert/8/