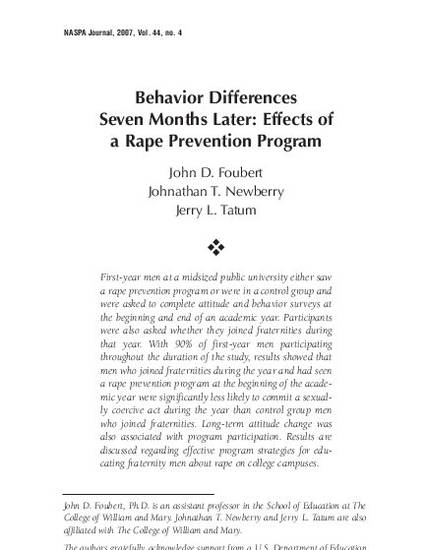 Article
Behavior Differences Seven Months Later: Effects of a Rape Prevention Program
Journal of Student Affairs Research and Practice (2007)
Abstract
First-year men at a midsized public university either saw a rape prevention program or were in a control group and were asked to complete attitude and behavior surveys at the beginning and end of an academic year. Participants were also asked whether they joined fraternities during that year. With 90% of first-year men participating throughout the duration of the study, results showed that men who joined fraternities during the year and had seen a rape prevention program at the beginning of the academic year were significantly less likely to commit a sexually coercive act during the year than control group men who joined fraternities. Long-term attitude change was also associated with program participation. Results are discussed regarding effective program strategies for educating fraternity men about rape on college campuses.
Keywords
Rape,
Fraternity,
The Men's Program,
Sexual Assault
Citation Information
Foubert, J. D., Newberry, J. T. & Tatum, J. (2007). Behavior differences seven months later: Effects of a rape prevention program.
Journal of Student Affairs Research and Practice, 44,
728-749.