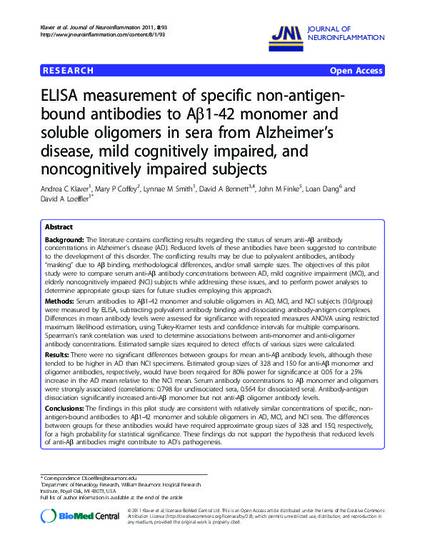 Article
ELISA Measurement of Specific Non-antigen-bound Antibodies to Ab1-42 Monomer and Soluble Oligomers in Sera from Alzheimer's Disease, Mild Cognitively Impaired, and Noncognitively Impaired Subjects
Journal of Neuroinflammation
Publication Date
1-1-2011
Abstract
The article presents a study for enzyme-linked immunosorbent assay (ELISA) measurement of specific non-antigen-bound antibodies to Aβ1-42 monomer and soluble oligomers in Alzheimer's disease (AD), mild cognitively impaired (MCI), and noncognitively impaired (NCI) sera. In the study, serum samples were obtained from the Rush Alzheimer's Disease Center, Chicago, Illinois.
DOI
10.1186/1742-2094-8-93
Version
pre-print, post-print, pub PDF
Citation Information
Andrea C. Klaver, Mary P. Coffey, Lynnae M. Smith, David A. Bennett, et al.. "ELISA Measurement of Specific Non-antigen-bound Antibodies to Ab1-42 Monomer and Soluble Oligomers in Sera from Alzheimer's Disease, Mild Cognitively Impaired, and Noncognitively Impaired Subjects"
Journal of Neuroinflammation
Vol. 8 Iss. 1 (2011) p. 93
Available at: http://works.bepress.com/john_finke/7/