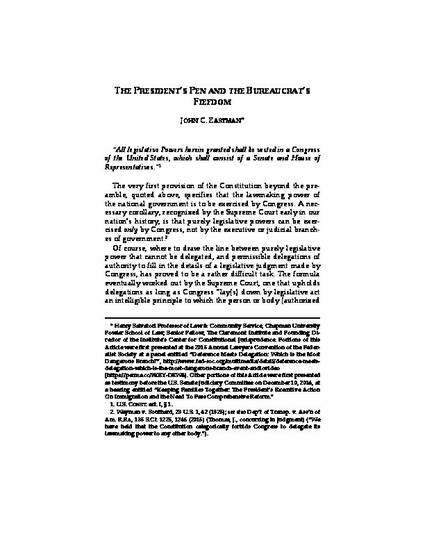 Article
The President's Pen and the Bureaucrat's Fiefdom
Harvard Journal of Law & Public Policy (2017)
Abstract
Perhaps spurred by aggressive use of executive orders and "lawmaking" by administrative agencies by the last couple of presidential administrations, several Justices on the Supreme Court have recently expressed concern that the Court's deference doctrines have undermined core separation of powers constitutional principles.  This article explores those Justice's invitation to revisit those deference doctrines and some of the executive actions that have prompted the concern.
Keywords
Deference,
administrative law,
agencies,
Chevron,
Skidmore,
Auer,
separation of powers,
executive orders,
TARP,
President Bush,
President Obama,
gender identity,
cap-and-trade,
DACA,
DAPA,
immigration
Publication Date
June, 2017
Citation Information
John C. Eastman, The President's Pen and the Bureaucrat's Fiefdom, 40 HARV. J. L. & PUB. POL'Y 639 (2017).