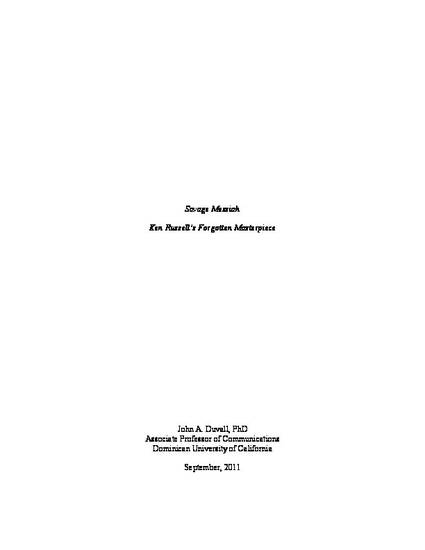 Article
Savage Messiah: Ken Russell's Forgotten Masterpiece
Quarterly Review of Film and Video
Publication Date
2-10-2014
Department
Communication and Media Studies
Abstract
This paper presents an analysis of Savage Messiah, Ken Russell's filmic biography of WWI-era artist and sculptor Henri Gaudier-Brzeska, evaluating its various aesthetic codes of meaning, and demonstrating how these codes contribute to a unified narrative structure. Particular attention is paid to the phenomenological elements of the cinematic narrative – image composition, art direction, color, motion, editing and sound – in order to reveal the sensuous core of the film as its method of thematic expression. We offer observations on the narrative's deep structure in terms of symbolic references, on Russell's visual techniques of characterization, and on how these elements contribute to the integration of the film's aesthetic, emotional and intellectual expression.
Rights
Copyright © 2014 Taylor and Francis Group, LLC
Publisher Statement
This is an Accepted Manuscript of an article published by Taylor & Francis in Quarterly Review on Film and Video on February 10, 2014, available online: http://www.tandfonline.com/10.1080/10509208.2011.646576.
Citation Information
John A. Duvall. "Savage Messiah: Ken Russell's Forgotten Masterpiece"
Quarterly Review of Film and Video
Vol. 31 Iss. 3 (2014) p. 255 - 265 ISSN: 1050-9208
Available at: http://works.bepress.com/john_duvall/24/