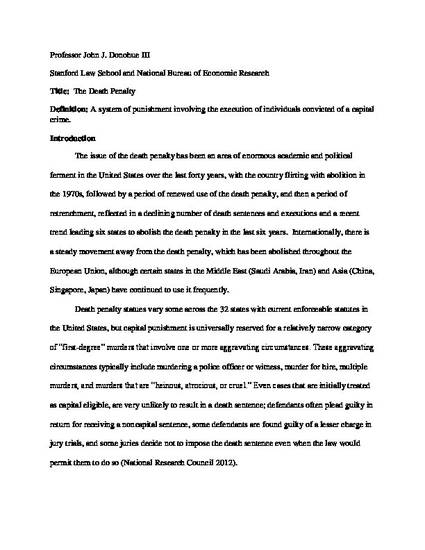 Article
The Death Penalty
Encyclopedia of Law and Economics (2013)
Abstract
A system of punishment involving the execution of individuals convicted of a capital crime.
The issue of the death penalty has been an area of enormous academic and political ferment in the United States over the last forty years, with the country flirting with abolition in the 1970s, followed by a period of renewed use of the death penalty, and then a period of retrenchment, reflected in a declining number of death sentences and executions and a recent trend leading six states to abolish the death penalty in the last six years. Internationally, there is a steady movement away from the death penalty, which has been abolished throughout the European Union, although certain states in the Middle East (Saudi Arabia, Iran) and Asia (China, Singapore, Japan) have continued to use it frequently.
Publication Date
Fall October, 2013
Citation Information
John J. Donohue. "The Death Penalty"
Encyclopedia of Law and Economics
(2013)
Available at: http://works.bepress.com/john_donohue/104/