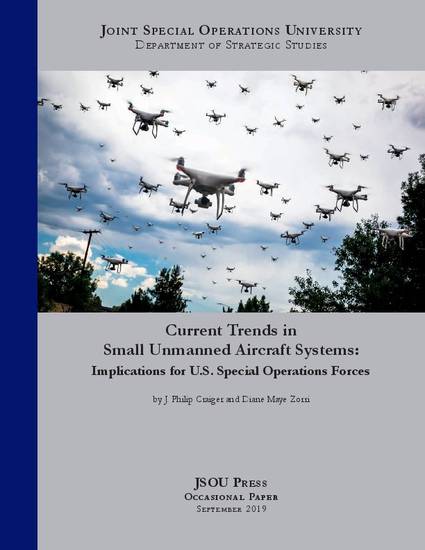 Article
Current Trends in sUAS; Implications for U.S. Special Operations Forces.
Joint Special Operations University Press (2019)
Abstract
This paper assesses current trends in small unmanned aircraft systems (sUAS) technology and its applications to the Special Operations Forces (SOF) community. Of critical concern to SOF is that commercial-off-the-shelf (COTS) sUAS technologies are relatively inexpensive, improving at a dramatic rate, and widely available throughout the world. Insurgents, terrorists, violent extremist organizations (VEOs) and other nefarious actors have used COTS sUAS to conduct offensive attacks as well as to develop battlefield situation awareness; these technological improvements combined with their widespread availability will require enhanced and rapidly adaptive counter-sUAS measures in the future. To understand the most current trends in the unmanned aircraft systems (UAS) technology and their applicability to SOF, this paper analyzes the definition and classification of sUAS, their major applications, and characteristics. In the military context, UAS are principally used for intelligence, surveillance, and reconnaissance (ISR), border security, counterinsurgency, attack and strike, target identification and designation, communications relay, electronic attack, remote sensing, and aerial mapping. As technology improves, smaller versions of sUAS will be used by both friendly operators and maligned actors (insurgents, terrorists, VEOs, nation states) as force multipliers for military operations. As armed forces around the world continue to invest in research and development of sUAS technologies, there will be tremendous potential to revolutionize warfare, particularly in context of special operations. Consequently, the use of sUAS technology by SOF is likely to escalate over the next decade, as is the likelihood of sUAS countermeasures due to the availability of the technology within nefarious organizations.
Keywords
Small unmanned aerial systems,
cybersecurity,
Special Operations Forces
Publication Date
Fall September 1, 2019
Citation Information
P. Craiger and D.M. Zorri. (September, 2019). Current Trends in sUAS; Implications for U.S. Special Operations Forces. Occasional Paper. MacDill AFB, FL: Joint Special Operations University Press.