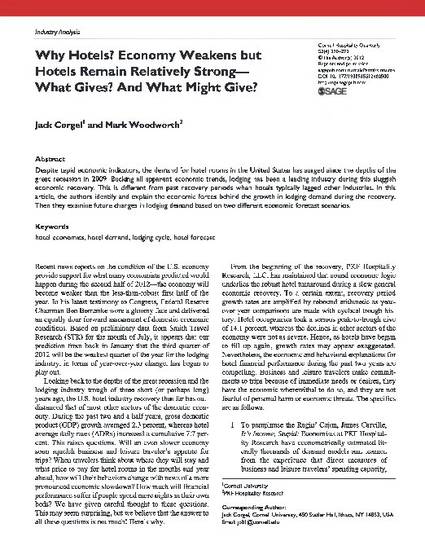 Article
Why Hotels? Economy Weakens but Hotels Remain Relatively Strong—What Gives? And What Might Give?
Articles and Chapters
Publication Date
11-1-2012
Abstract
Despite tepid economic indicators, the demand for hotel rooms in the United States has surged since the depths of the great recession in 2009. Bucking all apparent economic trends, lodging has been a leading industry during this sluggish economic recovery. This is different from past recovery periods when hotels typically lagged other industries. In this article, the authors identify and explain the economic forces behind the growth in lodging demand during the recovery. Then they examine future changes in lodging demand based on two different economic forecast scenarios.
Citation Information
Corgel, J. B., & Woodworth, R.M. (2012). Why hotels? Economy weakens but hotels remain relatively strong—what gives? And what might give? [Electronic version]. Cornell Hospitality Quarterly, 53(4), 270-273. Retrieved [insert date], from Cornell University, School of Hospitality Administration site: http://scholarship.sha.cornell.edu/articles/537/