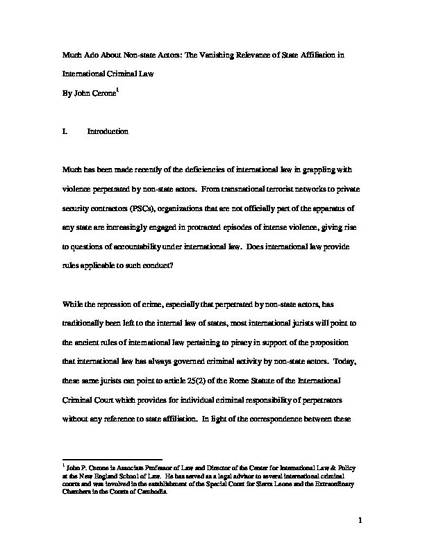 Unpublished Paper
Much Ado About Non-state Actors: The Vanishing Relevance of State Affiliation in International Criminal Law
ExpressO (2008)
Abstract
Much has been made recently of the deficiencies of international law in grappling with violence perpetrated by non-state actors. From transnational terrorist networks to private security contractors (PSCs), organizations that are not officially part of the apparatus of any state are increasingly engaged in protracted episodes of intense violence, giving rise to questions of accountability under international law. Does international law provide rules applicable to such conduct? Once the individual has been deemed a subject of positive international law, the requirement of state affiliation is no longer essential to analytical coherence. The issue becomes simply whether international law should directly regulate the conduct of non-state actors – something that was traditionally left to the internal law of states. Ultimately, there is no requirement in modern international criminal law that a perpetrator be a state actor. However, the status of an individual is not necessarily irrelevant. While rules of international criminal law are not addressed exclusively to state actors, whether or not a perpetrator is a state actor may be relevant in establishing contextual elements, such as whether a conflict is international for purposes of prosecuting grave breaches, or to establish the existence of a policy for the prosecution of Crimes Against Humanity under the Rome Statute. It could also be relevant for crimes that are based on the status of the victim (e.g. crimes against Prisoners of War), or in establishing certain modes of liability, such as command responsibility, which is predicated on a superior-subordinate relationship.
Publication Date
September 29, 2008
Citation Information
John P Cerone. "Much Ado About Non-state Actors: The Vanishing Relevance of State Affiliation in International Criminal Law"
ExpressO
(2008)
Available at: http://works.bepress.com/john_cerone/1/