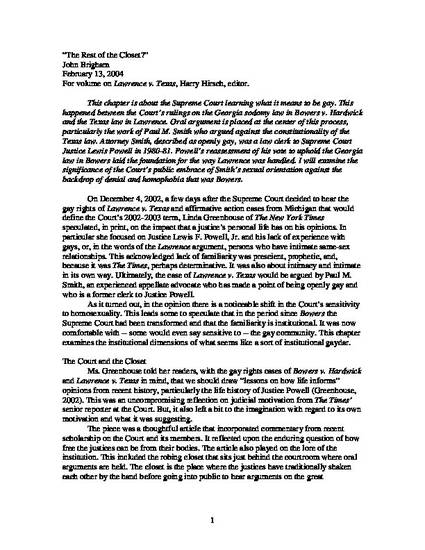 Article
The Supreme Court & the Closet
The Future of Gay Rights in America (2004)
Abstract
This chapter is about the Supreme Court learning what it means to be gay. This happened between the Court's rulings on the Georgia sodomy law in Bowers v. Hardwick and the Texas law in Lawrence. Oral argument is placed at the center of this process, particularly the work of Paul M. Smith who argued against the constitutionality of the Texas law. Attorney Smith, described as openly gay, was a law clerk to Supreme Court Justice Lewis Powell in 1980-81. Powell's reassessment of his vote to uphold the Georgia law in Bowers laid the foundation for the way Lawrence was handled. I will examine the significance of the Court's public embrace of Smith's sexual orientation against the backdrop of denial and homophobia that was Bowers.
Citation Information
John Brigham. "The Supreme Court & the Closet"
The Future of Gay Rights in America
(2004)
Available at: http://works.bepress.com/john_brigham/11/