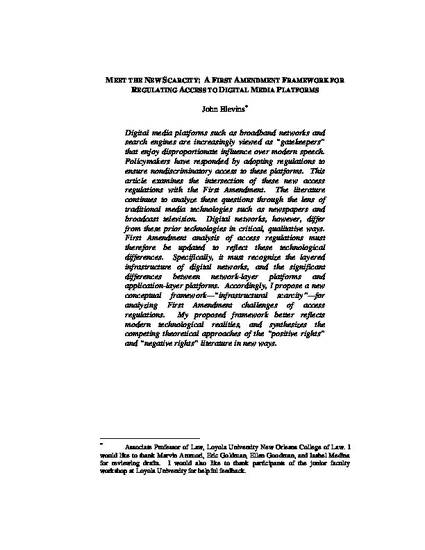 Unpublished Paper
Meet the New Scarcity: A First Amendment Framework for Regulating Access to Digital Media Platforms
ExpressO (2011)
Abstract
Digital media platforms such as broadband networks and search engines are increasingly viewed as "gatekeepers" that enjoy disproportionate influence over modern speech. Policymakers have responded by adopting regulations to ensure nondiscriminatory access to these platforms. This article examines the intersection of these new access regulations with the First Amendment. The literature continues to analyze these questions through the lens of traditional media technologies such as newspapers and broadcast television. Digital networks, however, differ from these prior technologies in critical, qualitative ways. First Amendment analysis of access regulations must therefore be updated to reflect these technological differences. Specifically, it must recognize the layered infrastructure of digital networks, and the significant differences between network-layer platforms and application-layer platforms. Accordingly, I propose a new conceptual framework—"infrastructural scarcity"—for analyzing First Amendment challenges of access regulations. My proposed framework better reflects modern technological realities, and synthesizes the competing theoretical approaches of the "positive rights" and "negative rights" literature in new ways.
Keywords
first amendment,
media platforms,
network neutrality,
search neutrality,
layers
Publication Date
August 7, 2011
Citation Information
John Blevins. "Meet the New Scarcity: A First Amendment Framework for Regulating Access to Digital Media Platforms"
ExpressO
(2011)
Available at: http://works.bepress.com/john_blevins/5/