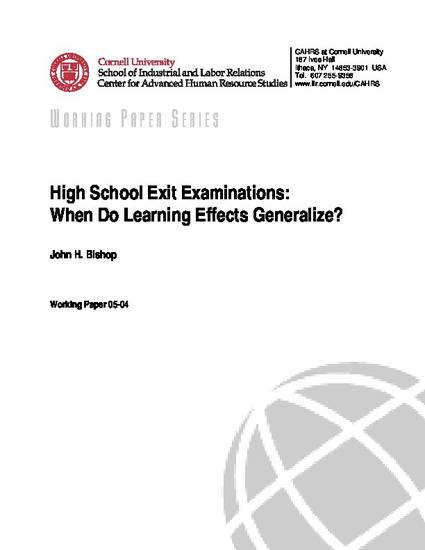 Other
High School Exit Examinations: When Do Learning Effects Generalize?
CAHRS Working Paper Series
Publication Date
4-1-2005
Abstract
This paper reviews international and domestic evidence on the effects of three types of high school exit exam systems: voluntary curriculum-based external exit exams, universal curriculum-based external exit exam systems and minimum competency tests that must be passed to receive a regular high school diploma. The nations and provinces that use Universal CBEEES (and typically teacher grades as well) to signal student achievement have significantly higher achievement levels and smaller differentials by family background than otherwise comparable jurisdictions that base high stakes decisions on voluntary college admissions tests and/or teacher grades. The introduction of Universal CBEEES in New York and North Carolina during the 1990s was associated with large increases in math achievement on NAEP tests. Research on MCTs and high school accountability tests is less conclusive because these systems are new and have only been implemented in one country. Cross-section studies using a comprehensive set of controls for family background have not found that students in MCT states score higher on audit tests like the NAEP that carry no stakes for the test taker. The analysis reported in table 1 tells us that the five states that introduced MCTs during the 1990s had significantly larger improvements on NAEP tests than states that made no change in their student accountability regime. The gains, however, are smaller than for the states introducing Universal CBEEES. New York and North Carolina. The most positive finding about MCTs is that students in MCT states earn significantly more during the first eight years after graduation than comparable students in other states suggesting that MCTs improve employer perceptions of the quality of the recent graduates of local high schools.
Citation Information
John H. Bishop. "High School Exit Examinations: When Do Learning Effects Generalize?" (2005)
Available at: http://works.bepress.com/john_bishop/68/