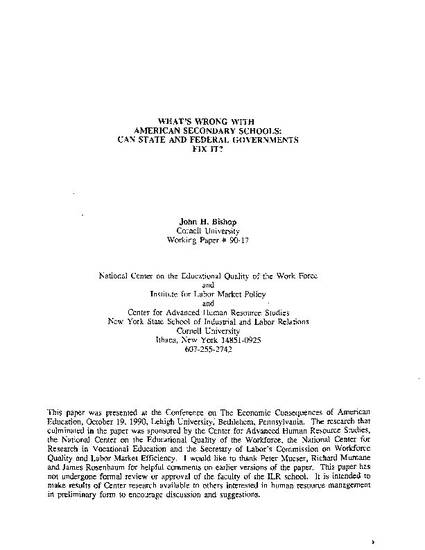 Other
What's Wrong With American Secondary Schools: Can State and Federal Governments Fix it?
CAHRS Working Paper Series
Publication Date
11-1-1990
Abstract
[Excerpt] The poor performance of American students is sometimes blamed on the nation's "diversity". Many affluent parents apparently believe that their children are doing acceptably by international standards. This is not the case. In Stevenson, Lee and Stigler's (1986) study of 5th grade math achievement, the best of the 20 classrooms sampled in Minneapolis was outstripped by every single classroom studied in Sendai, Japan and by 19 of the 20 classrooms studied in Taipeh, Taiwan. The nation's top high school students rank far behind much less elite samples of students in other countries. In mathematics the gap between Japanese and Finnish high school seniors and their white American counterparts is about twice the size of the two to three grade level equivalent gap between blacks and whites in the US (NAEP 1988b; IAEEA 1987). The learning deficit is pervasive.
Citation Information
John H. Bishop. "What's Wrong With American Secondary Schools: Can State and Federal Governments Fix it?" (1990)
Available at: http://works.bepress.com/john_bishop/66/