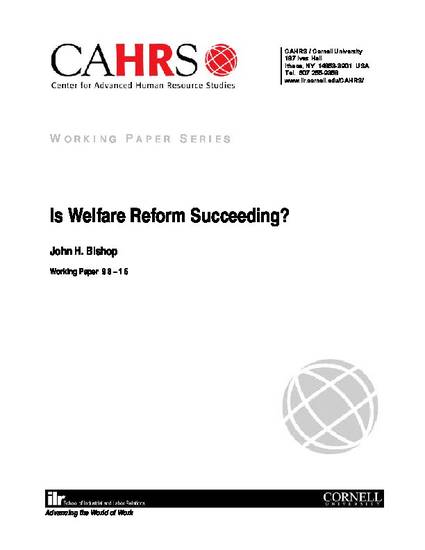 Other
Is Welfare Reform Succeeding?
CAHRS Working Paper Series
Publication Date
6-2-1998
Abstract
Welfare Reform and the Earned Income Tax Credit have apparently caused a dramatic increase in the labor force participation rates of single parents. Between the first quarters of 1994 and 1998, labor force participation rates rose 25.4 percent for never-married women caring for children, rose 15.5 percent for mothers separated from their spouse and rose 4.9 percent for divorced single mothers. By contrast, unmarried individuals and separated and divorced women who were not caring for children lowered their rates of participation in the labor market. The rise in the labor force participation rates of single parents between 1994 and 1998 increased the labor force by 1,111,000. The total increase in the labor force due to changes in participation rates was 1,178,000. Thus, single parents, who accounted for only 6.2 percent of the labor force in 1994, were responsible for almost all of the increase in the overall labor force participation rate between 1994 and 1998. This unanticipated increase in labor supply may be one of the reasons why wage inflation has been so moderate since 1992. The EITC and welfare reform have increased the level of output that is consistent with non-accelerating inflation and may have even shifted the NAIRU, though probably not by much.
Citation Information
John H. Bishop. "Is Welfare Reform Succeeding?" (1998)
Available at: http://works.bepress.com/john_bishop/41/