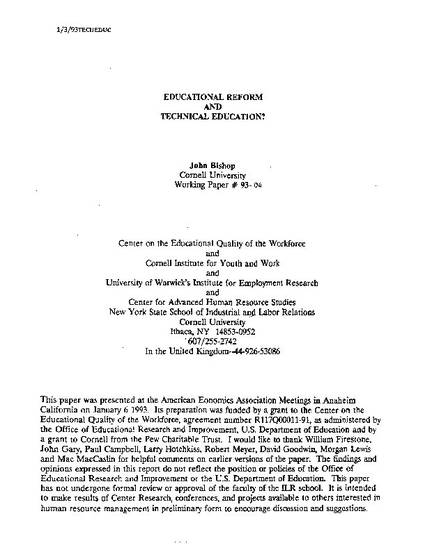 Other
Educational Reform and Technical Education?
CAHRS Working Paper Series
Publication Date
1-1-1993
Abstract
[Excerpt] Even though educational reform marches under a banner of economic renewal, the school subjects that appear to be most directly related to worker productivity-- business education, vocational education, economics, computers--have received little attention from reformers. The five "core" subjects proposed for periodic assessment are English, mathematics, science, history/civics and geography. Yet, if competitiveness is the objective, it is not clear why geography, a subject that is not taught in most American universities, has higher priority than subjects like computers, economics, management and technology? Some of the reform reports have expressed doubt about the economic benefits of vocational education (Committee on Economic Development 1986). Indeed, new graduation requirements introduced by reformers have contributed to an 8 percent reduction in vocational course taking between 1982and 1987.
Citation Information
John H. Bishop. "Educational Reform and Technical Education?" (1993)
Available at: http://works.bepress.com/john_bishop/102/