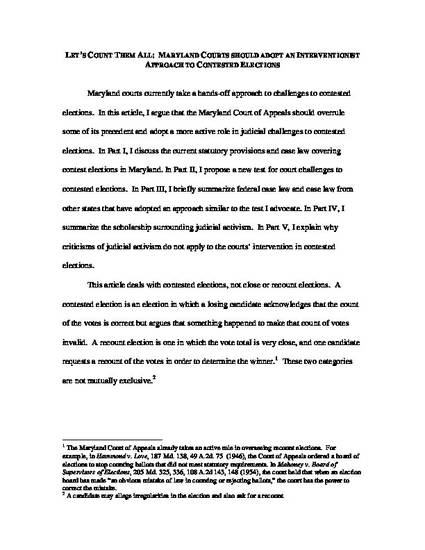 Unpublished Paper
Let's Count Them All: Maryland Courts Should Adopt an Interventionist Approach to Contested Elections
ExpressO (2008)
Abstract
Maryland courts currently take a hands-off approach to challenges to contested elections. In this article, I argue that the Maryland Court of Appeals should overrule some of its precedent and adopt a more active role in judicial challenges to contested elections. In Part I, I discuss the current statutory provisions and case law covering contest elections in Maryland. In Part II, I propose a new test for court challenges to contested elections. In Part III, I briefly summarize federal case law and case law from other states that have adopted an approach similar to the test I advocate. In Part IV, I summarize the scholarship surrounding judicial activism. In Part V, I explain why criticisms of judicial activism do not apply to the courts' intervention in contested elections.
Publication Date
February 27, 2008
Citation Information
John C Armstrong. "Let's Count Them All: Maryland Courts Should Adopt an Interventionist Approach to Contested Elections"
ExpressO
(2008)
Available at: http://works.bepress.com/john_armstrong/1/