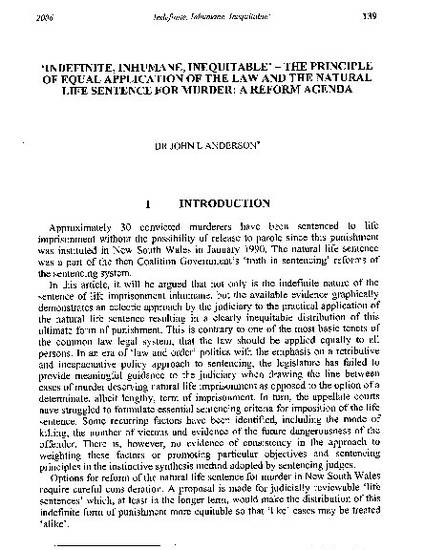 Article
Indefinite, Inhumane and Inequitable - The principle of equal application of the law and the natural life sentence: A Reform Agenda
University of New South Wales Law Journal (2006)
Abstract
In this article, it will be argued that not only is the indefinite nature of the sentence of life imprisonment inhumane, but the available evidence graphically demonstrates an eclectic approach by the judiciary to the practical application of
the natural life sentence resulting in a clearly inequitable distribution of this ultimate form of punishment. This is contrary to one of the most basic tenets of the common law legal system, that the law should be applied equally to all
persons. In an era of 'law and order' politics with the emphasis on a retributive and incapacitative policy approach to sentencing, the legislature has failed to provide meaningful guidance to the judiciary when drawing the line between cases of murder deserving natural life imprisonment as opposed to the option of a
determinate, albeit lengthy, term of imprisonment. In turn, the appellate courts have struggled to formulate essential sentencing criteria for imposition of the life
sentence. Some recurring factors have been identified, including the mode of killing, the number of victims and evidence of the future dangerousness of the
offender. There is, however, no evidence of consistency in the approach to weighting these factors or promoting particular objectives and sentencing principles in the instinctive synthesis method adopted by sentencing judges.
Options for reform of the natural life sentence for murder in New South Wales require careful consideration. A proposal is made for judicially reviewable 'life sentences' which, at least in the longer term, would make the distribution of this
indefinite form of punishment more equitable so that 'like' cases may be treated 'alike'.
Keywords
Life imprisonment,
sentencing principles,
principle of equality before the law,
law reform
Citation Information
John L Anderson. "Indefinite, Inhumane and Inequitable - The principle of equal application of the law and the natural life sentence: A Reform Agenda"
University of New South Wales Law Journal
Vol. 29 Iss. 3 (2006)
Available at: http://works.bepress.com/john_anderson/3/