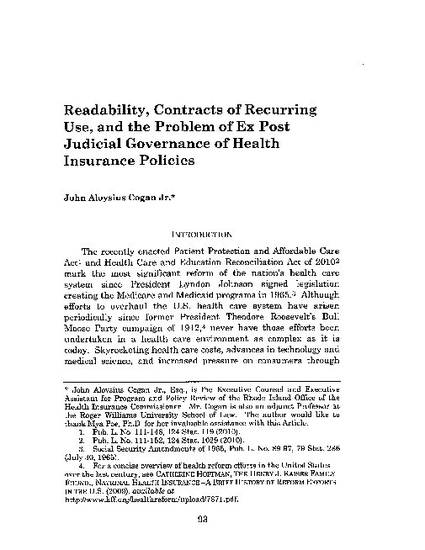 Article
Readability, Contracts of Recurring Use, and the Problem of Ex Post Judicial Governance of Health Insurance Policies
Roger Williams University Law Review (2010)
Abstract
While the rhetoric surrounding the passage of the Patient Protection and Affordable Care Act focused on core issues such as cost, quality, and access to care, the dialog rarely acknowledged a key problem-the fact that most Americans do not understand their health insurance. Simply put, consumers do not fully grasp their health insurance coverage because the jargon found in many health insurance contracts is impenetrable to most Americans. This is disconcerting because consumer-oriented information is central to our increasingly consumer-directed health care system. Consumers are expected to make cost-effective choices among the array of health insurance plans that may be available to them, utilize health care services in a cost-effective manner, navigate provider networks, minimize their out-of-pocket expenses, and effectively appeal denials of coverage. Furthermore, unlike other types of insurance agreements, health insurance policies are contracts of recurring use. That is, health insurance policies are routinely and repeatedly invoked by consumers to finance their health care. Yet, such contracts are written at a level that is beyond the reading skills of most Americans. As such, insureds not only have difficultly understanding the details of their coverage, they do not fully comprehend the benefits and rights afforded by the policy. Consequently, the traditional approach of ex post judicial governance of insurance agreements (as adhesion contracts) by interpreting ambiguities in favor of insureds provides inadequate protection for health insurance consumers. If consumers do not understand their coverage rights and benefits, they cannot reasonably be expected to know when those benefits have been wrongly denied. The better, ex ante solution is to make health insurance contracts readable in the first instance by requiring that health insurance contracts meet an eighth grade readability standard as a condition of state approval.
Keywords
health insurance contract
Citation Information
John Aloysius Cogan. "Readability, Contracts of Recurring Use, and the Problem of Ex Post Judicial Governance of Health Insurance Policies"
Roger Williams University Law Review
Vol. 15 Iss. 1 (2010) p. 93
Available at: http://works.bepress.com/john_aloysius_cogan_jr/7/