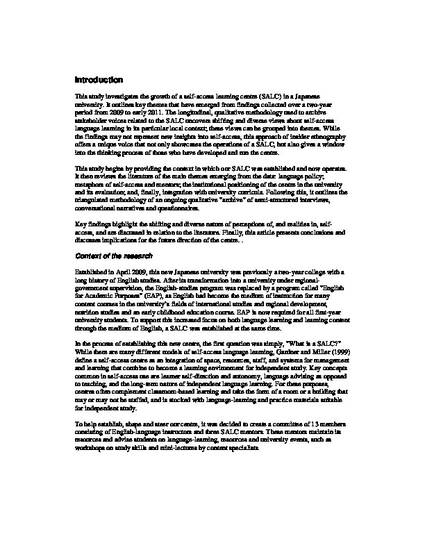 Article
Revealing Shifts and Diversity in Understandings of Self Access Language Learning
Journal of University Teaching & Learning Practice
Abstract
This study has traced the growth of a new facility intended to promote independent language study in a Japanese university. The study traces this Self Access Learning Center (SALC) from its inception through the first two years of its development. It has revealed how key qualitative insights from an archive of semi-structured interviews, conversational narratives and questionnaires with students, teachers, center staff and university management are marked by their shifting and diverse nature. Findings related to language policy for the center show how initial 'English only' regulations have been opposed and amended by stakeholders. Findings focusing on the center stakeholders' metaphors of self access language learning have changed or been supplemented and show great diversity. Importantly, SALC's positioning in the wider university has experienced problems with diverse evaluation expectations and, despite considerable financial backing, remains marginalized. Finally, SALC's integration with university curricula has seen mixed results; the center is connected closely to the English curriculum as taught by non-Japanese, but not to curricula taught by Japanese teachers of English or content subjects. This indicates that integration of university-wide curricula with autonomous modes of learning remains a hurdle. This study may inform other centers seeking to gather data on the diverse voices impacting upon their development.
Citation Information
John L Adamson, Howard G Brown and Naoki Fujimoto-Adamson. "Revealing Shifts and Diversity in Understandings of Self Access Language Learning"
Available at: http://works.bepress.com/john_adamson/1/