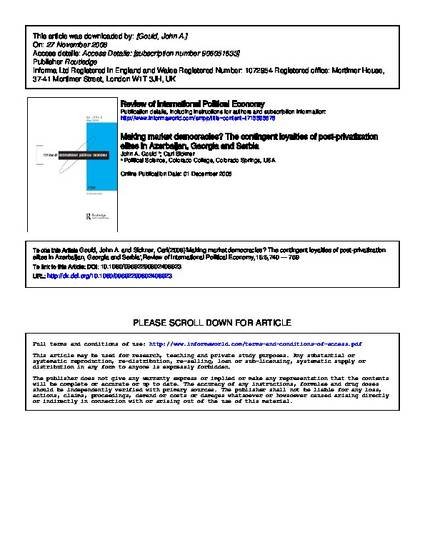 Article
Making Market Democracies? The Contingent Loyalties of Post-Privatization Elites in Azerbaijan, Georgia and Serbia
Review of International Political Economy (2008)
Abstract
Neoliberal market reformers stress the 'market building instincts' of private owners to justify rapid forms of property transformation under illiberal political conditions. Private owners demand the institutions of the selfrestraining state to protect property from various forms of expropriation and to enforce contracts. Legacy theorists counter that under illiberal political conditions, economic insiders are more likely to capture the benefits of privatization programs and then seek exemption from the rule of law rather than application of it. We employ a 'path contingency' approach to show that under illiberal, competitive authoritarian conditions, privatization recipients and other private economic agents are unlikely to demand the basic institutions of market democracy. Yet, this is by no means a stable set of affairs. Political inequality and its attendant rent-seeking behavior will likely delay or distort growth and can contribute to economic and political instability. Political crisis may follow as regimes face societal frustration and energized, united political oppositions. Such crises are moments of uncertainty and flux. Crises provide private economic agents in particular with an opportunity to reconsider their ties to an illiberal regime. This paper examines these propositions during illiberal regime crises in Serbia, Georgia and Azerbaijan.
Keywords
Serbia,
Georgia,
Azerbaijan,
democratization,
resources,
clans
Publication Date
Fall 2008
Citation Information
John A. Gould and Carl Lee Sickner. "Making Market Democracies? The Contingent Loyalties of Post-Privatization Elites in Azerbaijan, Georgia and Serbia"
Review of International Political Economy
15.5 (2008): 740-769.