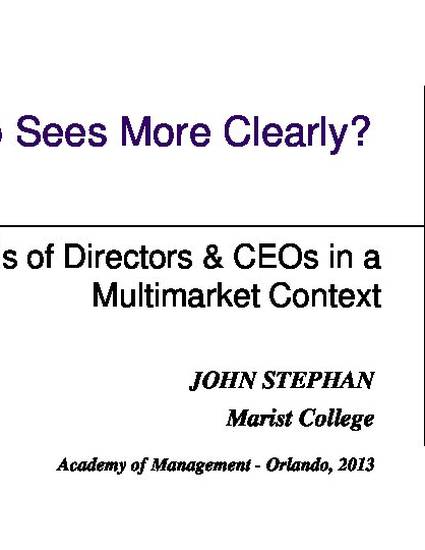 Presentation
Who Sees More Clearly? Boards of Directors & CEOs in a Multimarket Context
Academy of Management (2013)
Abstract
This study examines the conditions under which firms are likely to recognize and abide by the norms implicit in their competitive position and the degree to which Boards of Directors are able to affect CEO behavior. We focus on the network of multimarket ties and the prior work that suggests that firms and their managers should increase multimarket contact when levels are low by entering into more of their multimarket rivals' markets but refrain from doing so once levels reach a high enough point so that an effective deterrent to further aggression exists.  We test several hypotheses regarding CEO tenure and characteristics of the Board of Directors for their effects on whether the firm behaves in accordance with its multimarket position regarding market entry.   Results reveal that firms with longer-tenured CEOs and those with Board dominated by outsiders (regardless of CEO tenure) are more likely to recognize and abide by their multimarket norms.  Results also suggest that Board heterogeneity can encourage accurate interpretation of the firm's competitive environment, especially for CEOs who are relatively new to the job.
Keywords
Competition,
Multimarket,
CEOs,
Boards of Directors,
Hospitals
Publication Date
August, 2013
Citation Information
John Stephan. "Who Sees More Clearly? Boards of Directors & CEOs in a Multimarket Context"
Academy of Management
(2013)
Available at: http://works.bepress.com/john-stephan/5/
Creative Commons License
This work is licensed under a Creative Commons CC_BY-NC-ND International License.