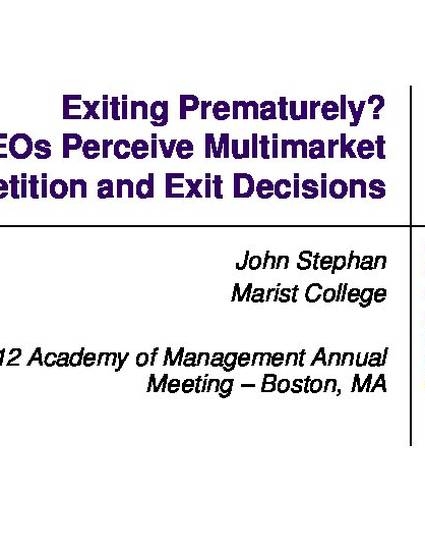 Presentation
Exiting Prematurely? How CEOs Perceive Multimarket Competition and Exit Decisions
Academy of Management (2012)
Abstract
Studies of multimarket competition have developed fairly fine-grained depictions of some firm behaviors when these firms are embedded in a web of multimarket contacts. For other behaviors, the picture is not as clear. This paper looks at the exit decisions of multimarket competitors to try to resolve the discrepancies that have arisen across studies that have examined exit decisions within a multimarket context. In particular, prior studies have postulated and found both negative linear relationships between increasing multimarket contact and the likelihood of a firm exiting a particular market, and curvilinear relationships, where the likelihood of exit first increases with increasing multimarket contact and then, after some point, declines as multimarket contact increases (an inverted U-shaped relationship).  We also examine the role of the key actor in a firm's competitive stance, the CEO, in terms of how this individual, as a function of their relative newness to the job interprets, and responds to their firm's multimarket positioning. We test hypotheses regarding multimarket contact levels and CEO tenure for their effects on a firm's exit decisions and their consistency with predictions from multimarket theory.  Results reveal that exit decisions follow a U-shaped relationship, contrary to previous results. We also find that there is no difference between firm actions for those multimarket firms with newer CEOs compared with firms where the CEO has held the position for longer periods of time.
Keywords
Competition,
multimarket,
hospitals,
CEOs
Publication Date
August 17, 2012
Citation Information
John Stephan. "Exiting Prematurely? How CEOs Perceive Multimarket Competition and Exit Decisions"
Academy of Management
(2012)
Available at: http://works.bepress.com/john-stephan/4/
Creative Commons License
This work is licensed under a Creative Commons CC_BY-NC-ND International License.