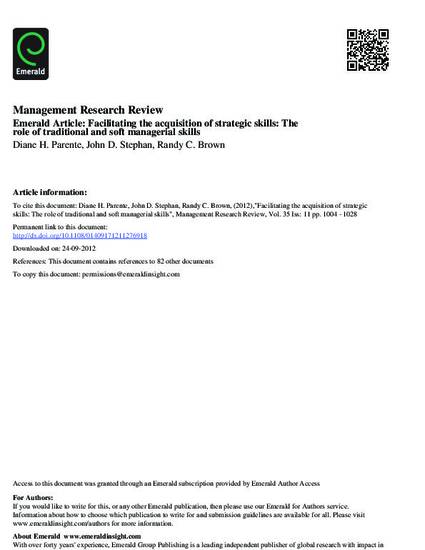 Article
Facilitating the acquisition of strategic skills: The role of traditional and soft managerial skills
Management Research Review (2012)
Abstract
Purpose – The purpose of this paper is to investigate whether managers can acquire strategic skills
using management education methods in lieu of experience. It demonstrates that experienced-based
pedagogical methods can be effective in developing traditional skills or "hard" skills and "soft" skills
such as interpersonal communication, which then facilitate the acquisition of strategic skills.
Design/methodology/approach – The paper uses data from questionnaires and achievement
scores from capstone classes to determine whether exposure to an experiential technique called
large-scale simulation can lead students to acquire traditional, soft and strategic managerial skill sets.
Findings – The results show that soft and traditional skills are complementary and together lead to
better acquisition of strategic skills and also imply that mastering soft skills may enhance the mastery
of traditional skills.
Research limitations/implications – A limitation of the research stems from the use of students
as research subjects. While this limits generalizability, it is important to remember that many such
students go on to be successful managers in large and small organizations, partly due to their
educational background. Replicating these findings with graduate and executive students is required.
Practical implications – A key practical implication is that organizations may be able to effectively
supplement their own experienced-based developmental efforts for their managerial personnel with
course-based learning.
Originality/value – The paper's findings support an option for many firms, although this has not
received much direct empirical support. Additionally, the results support the increasing emphasis
placed on soft skills, suggesting that development of strategic skills may help managers grasp the
bigger-picture implications.
Keywords
Skills,
Strategic Management,
Soft Skills,
Management Education
Publication Date
November, 2012
DOI
10.1108/01409171211276918
Citation Information
Diane H Parente, John Stephan and Randy C Brown. "Facilitating the acquisition of strategic skills: The role of traditional and soft managerial skills"
Management Research Review
Vol. 35 Iss. 11 (2012) p. 1004 - 1028 ISSN: 2040-8269
Available at: http://works.bepress.com/john-stephan/1/
Creative Commons license
This work is licensed under a Creative Commons CC_BY-NC-ND International License.