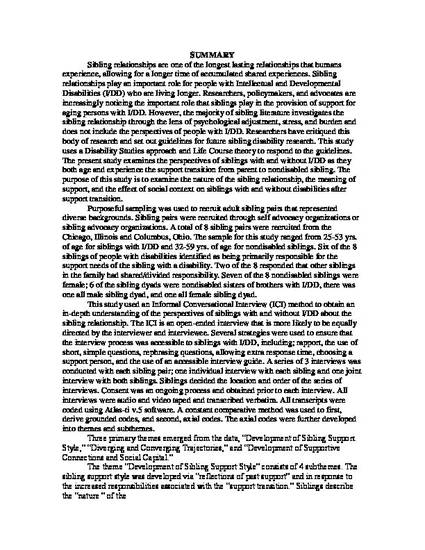 Dissertation
People with Disabilities and their Siblings: Building concepts of support, and transitions (SUMMARY)
(2009)
Abstract
Sibling relationships are one of the longest lasting relationships that humans experience, allowing for a longer time of accumulated shared experiences. Sibling relationships play an important role for people with Intellectual and Developmental Disabilities (I/DD) who are living longer. Researchers, policymakers, and advocates are increasingly noticing the important role that siblings play in the provision of support for aging persons with I/DD. However, the majority of sibling literature investigates the sibling relationship through the lens of psychological adjustment, stress, and burden and does not include the perspectives of people with I/DD. Researchers have critiqued this body of research and set out guidelines for future sibling disability research. This study uses a Disability Studies approach and Life Course theory to respond to the guidelines. The present study examines the perspectives of siblings with and without I/DD as they both age and experience the support transition from parent to nondisabled sibling. The purpose of this study is to examine the nature of the sibling relationship, the meaning of support, and the effect of social context on siblings with and without disabilities after support transition.
Publication Date
Fall 2009
Field of study
Disability Studies
Department
Institute on Disability and Human Development
Citation Information
John Kramer. "People with Disabilities and their Siblings: Building concepts of support, and transitions (SUMMARY)" (2009)
Available at: http://works.bepress.com/john-kramer/4/
Creative Commons license
This work is licensed under a Creative Commons CC_BY International License.