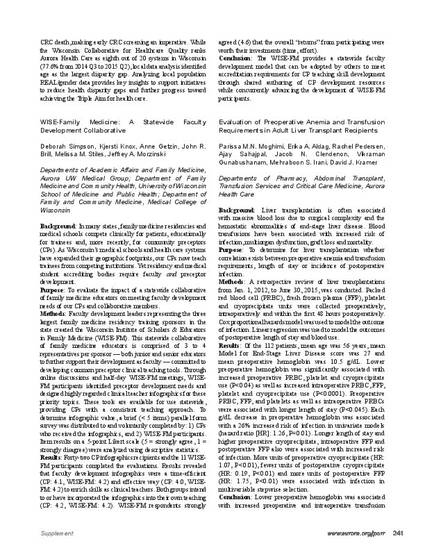 Other
WISE-Family Medicine: A Statewide Faculty Development Collaborative
Journal of Patient-Centered Research and Reviews
Publication Date
11-11-2016
Keywords
medical education,
family medicine,
faculty,
preceptors
Abstract
Background: In many states, family medicine residencies and medical schools compete clinically for patients, educationally for trainees and, more recently, for community preceptors (CPs). As Wisconsin's medical schools and health care systems have expanded their geographic footprints, our CPs now teach trainees from competing institutions. Yet residency and medical student accrediting bodies require faculty and preceptor development. Purpose: To evaluate the impact of a statewide collaborative of family medicine educators on meeting faculty development needs of our CPs and collaborative members. Methods: Faculty development leaders representing the three largest family medicine residency training sponsors in the state created the Wisconsin Institute of Scholars & Educators in Family Medicine (WISE-FM). This statewide collaborative of family medicine educators is comprised of 3 to 4 representatives per sponsor –– both junior and senior educators to further support their development as faculty –– committed to developing common preceptor clinical teaching tools. Through online discussions and half-day WISE-FM meetings, WISE-FM participants identified preceptor development needs and designed highly regarded clinical teacher infographics for these priority topics. These tools are available for use statewide, providing CPs with a consistent teaching approach. To determine infographic value, a brief (< 5 items) parallel form survey was distributed to and voluntarily completed by: 1) CPs who received the infographics, and 2) WISE-FM participants. Item results on a 5-point Likert scale (5 = strongly agree, 1 = strongly disagree) were analyzed using descriptive statistics. Results: Forty-two CP infographics recipients and the 11 WISE-FM participants completed the evaluations. Results revealed that faculty development infographics were a time-efficient (CP: 4.1, WISE-FM: 4.2) and effective way (CP: 4.0, WISE-FM: 4.2) to enrich skills as clinical teachers. Both groups intend to or have incorporated the infographics into their own teaching (CP: 4.2, WISE-FM: 4.2). WISE-FM respondents strongly agreed (4.6) that the overall "returns" from participating were worth their investments (time, effort). Conclusion: The WISE-FM provides a statewide faculty development model that can be adopted by others to meet accreditation requirements for CP teaching skill development through shared authoring of CP development resources while concurrently advancing the development of WISE-FM participants.
Citation Information
Simpson D, Knox K, Getzin A, Brill JR, Stiles MM, Morzinski JA. WISE-Family Medicine: a statewide faculty development collaborative. J Patient Cent Res Rev. 2016;3:241.