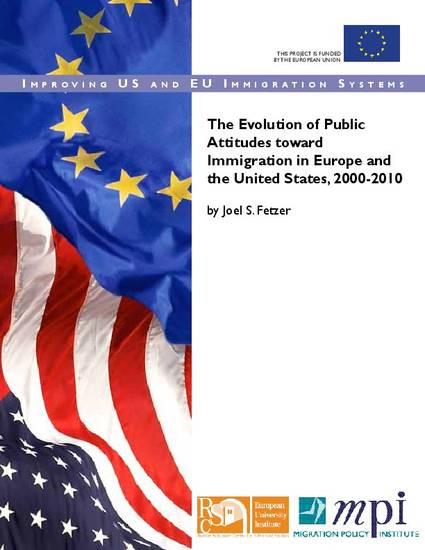 Article
The Evolution of Public Attitudes toward Immigration in Europe and the United States, 2000-2010
Improving EU and US Immigration Systems' Capacity for Responding to Global Challenges: Learning from Experiences (Project) (2011)
Abstract
This paper documents and analyzes trends in immigration-related public opinion over the past decade in the major North Atlantic countries of the EU-15 and US. Opening with a summary of the international social-scientific literature on the roots of immigration attitudes, the essay next documents changes in the average European's and American's views on migration since 2000 using such polls as the Eurobarometer, European Social Survey, World Values Survey, International Social Science Programme, and American National Election Study. A third major section employs over-time statistical models to examine the (minimal) impact of the current economic crisis on such attitudes. Finally, the paper describes the scholarly literature on the relationship between public opinion and immigration policy in Europe and the United States and speculates on how likely the current global recession is to alter immigration laws and their enforcement.
Keywords
Immigration,
United States,
Europe,
public opinion,
European Union,
immigration attitudes
Citation Information
Joel Fetzer. "The Evolution of Public Attitudes toward Immigration in Europe and the United States, 2000-2010"
Improving EU and US Immigration Systems' Capacity for Responding to Global Challenges: Learning from Experiences (Project)
(2011)
Available at: http://works.bepress.com/joel_fetzer/14/