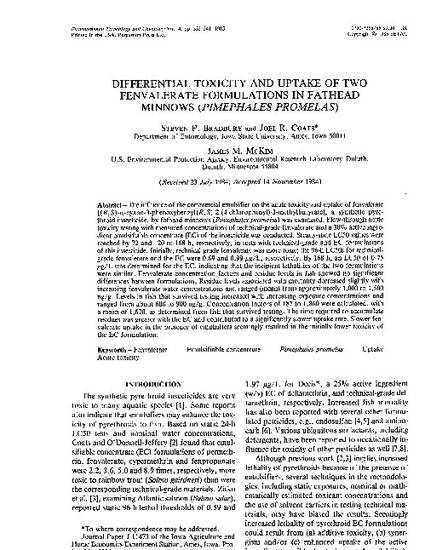 Article
Differential Toxicity and Uptake of Two Fenvalerate Formulations in Fathead Minnows (Pimephales Promelas)
Environmental Toxicology and Chemistry
Publication Version
Published Version
Publication Date
1-1-1985
Abstract
The influence of the commercial emulsifier on the acute toxicity and uptake of fenvalerate [(R,S)-α-cyano-3-phenoxybenzyl(R,S)-2-(4-chlorophenyl)-3-methylbutyrate], a synthetic pyre-throid insecticide, by fathead minnows (Pimephales promelas) was examined. Flow-through acute toxicity testing with measured concentrations of technical-grade fenvalerate and a 30% active ingredient emulsifiable concentrate (EC) of the insecticide was conducted. Steady-state LC50 values were reached by 72 and 120 to 168 h, respectively, in tests with technical-grade and EC formulations of this insecticide. Initially, technical-grade fenvalerate was more toxic; the 96–h LC50s for technical-grade fenvalerate and the EC were 0.69 and 0.99 μg/L, respectively. By 168 h, an LC50 of 0.75 μg/L was determined for the EC, indicating that the incipient lethalities of the two formulations were similar. Fenvalerate concentration factors and residue levels in fish showed no significant differences between formulations. Residue levels associated with mortality decreased slightly with increasing fenvalerate water concentrations and ranged (mean) from approximately 1,000 to 1,500 ng/g. Levels in fish that survived testing increased with increasing exposure concentrations and ranged from about 600 to 900 ng/g. Concentration factors of 187 to 1,860 were calculated, with a mean of 1,670, as determined from fish that survived testing. The time required to accumulate residues was greater with the EC and contributed to a significantly slower uptake rate. Slower fenvalerate uptake in the presence of emulsifiers seemingly resulted in the initially lower toxicity of the EC formulation.
Rights
Works produced by employees of the U.S. Government as part of their official duties are not copyrighted within the U.S. The content of this document is not copyrighted.
File Format
application/pdf
Citation Information
Steven P. Bradbury, Joel R. Coats and James M. McKim. "Differential Toxicity and Uptake of Two Fenvalerate Formulations in Fathead Minnows (Pimephales Promelas)"
Environmental Toxicology and Chemistry
Vol. 4 Iss. 4 (1985) p. 533 - 541
Available at: http://works.bepress.com/joel_coats/5/