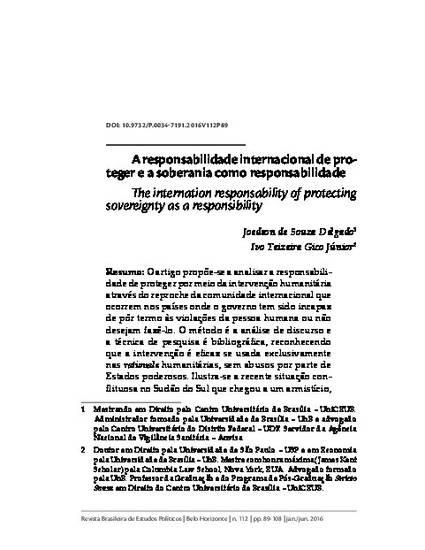 Article
The internation responsability of protecting sovereignty as a responsibility
Revista Brasileira de Estudos Políticos (2016)
Abstract
This article aims to analyze the responsibility of protecting through humanitarian intervention
and the international community reproach, which have been occurring in countries where governments have been unable to prevent human rights violations or have not the intention to do it. The method used is the speech analysis and the research technic is bibliographic, recognizing that intervention is efficient if used exclusively in the humanitarian rationale and when the States do not perform any abuse. The idea is exemplified by the conflicts in Southern Sudan, where, although an armistice was signed, a tragic result was left, since thousands of people were killed or became homeless, among other cases of intervention in the States' territories. Finally, the international community assessment, regarding meddling, facilitates acting in crises circumstances and prevents the usage of this mechanism for purely selfish reasons justified by humanitarian arguments, which represents an unacceptable attack on the sovereignty.
Keywords
Responsibility of Protecting,
Humanita-rian Intervention,
International Community,
State Sovereignty
Publication Date
Winter February 25, 2016
DOI
http://dx.doi.org/10.9732/P.0034-7191.2016V112P89
Citation Information
Joedson Delgado. "The internation responsability of protecting sovereignty as a responsibility"
Revista Brasileira de Estudos Políticos
Vol. 112 Iss. 1 (2016) p. 89 - 108
Available at: http://works.bepress.com/joedson-delgado/7/