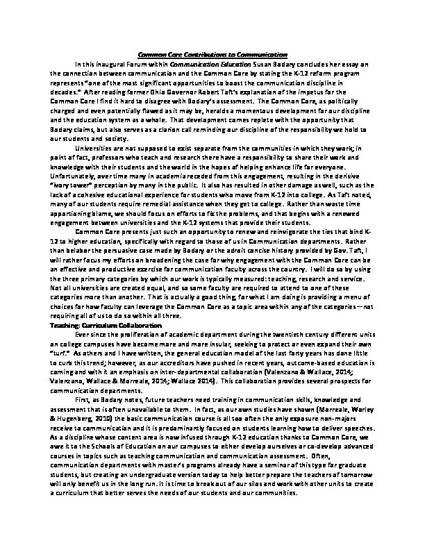 Article
Communication and the Common Core: Disciplinary Opportunities
Communication Education
Document Type
Response or Comment
Publication Date
3-1-2015
Abstract
The subject of how to strengthen primary and secondary education in the United States is widely discussed in news and popular media. While an extensive range of opinions have been expressed, the common thread is that these issues are normally situated in the domain of politicians and K-12 teachers. Primary and secondary education are rarely addressed by scholars who publish in Communication Education. This divide between Communication researchers in higher education and K-12 practitioners reflects generally weak connections between the two domains. As seems fitting for our changing times, that situation is also ripe for change. In tandem with the rapid evolution of higher education, primary and secondary education are undergoing a transformation of their own. One of the more significant events in recent years is the adoption of the Common Core State Standards (CCSS) by many states. This new set of standards has the potential to significantly impact our discipline either positively or negatively, depending on how we respond during this implementation phase. At present, it appears that few scholars are paying careful attention.
Document Version
Postprint
Copyright
Copyright © 2015, Taylor & Francis
Publisher
Taylor & Francis
Citation Information
Joesph M. Valenzano. "Communication and the Common Core: Disciplinary Opportunities"
Communication Education
Vol. 64 Iss. 2 (2015)
Available at: http://works.bepress.com/joe_valenzano/9/