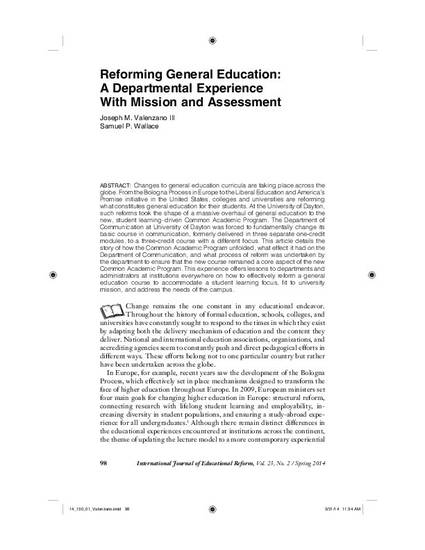 Article
Reforming General Education: A Departmental Experience With Mission and Assessment
International Journal of Educational Reform
Publication Date
4-1-2014
Abstract
Changes to general education curricula are taking place across the globe. From the Bologna Process in Europe to the Liberal Education and America's Promise initiative in the United States, colleges and universities are reforming what constitutes general education for their students. At the University of Dayton, such reforms took the shape of a massive overhaul of general education to the new, student learning–driven Common Academic Program. The Department of Communication at University of Dayton was forced to fundamentally change its basic course in communication, formerly delivered in three separate one-credit modules, to a three-credit course with a different focus. This article details the story of how the Common Academic Program unfolded, what effect it had on the Department of Communication, and what process of reform was undertaken by the department to ensure that the new course remained a core aspect of the new Common Academic Program. This experience offers lessons to departments and administrators at institutions everywhere on how to effectively reform a general education course to accommodate a student learning focus, fit to university mission, and address the needs of the campus.
Document Version
Published Version
Copyright
Copyright © 2014, Rowman & Littlefield Publishing Group. All rights reserved. Please contact the publisher for permission to copy, distribute or reprint.
Publisher
Rowman & Littlefield Publishing Group
Citation Information
Joesph M. Valenzano and Samuel P. Wallace. "Reforming General Education: A Departmental Experience With Mission and Assessment"
International Journal of Educational Reform
Vol. 23 Iss. 2 (2014)
Available at: http://works.bepress.com/joe_valenzano/5/