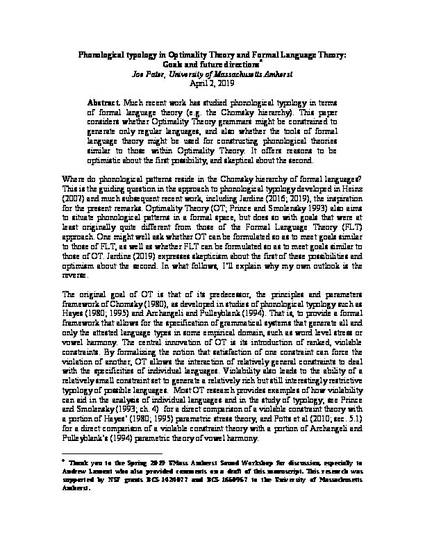 Article
Phonological typology in Optimality Theory and Formal Language Theory: Goals and future directions
Phonology (2019)
Abstract
Much recent work has studied phonological typology in terms of formal language theory (e.g. the Chomsky hierarchy). This paper considers whether Optimality Theory grammars might be constrained to generate only regular languages, and also whether the tools of formal language theory might be used for constructing phonological theories similar to those within Optimality Theory. It offers reasons to be optimistic about the first possibility, and skeptical about the second.
Citation Information
Joe Pater. "Phonological typology in Optimality Theory and Formal Language Theory: Goals and future directions"
Phonology
(2019)
Available at: http://works.bepress.com/joe_pater/37/