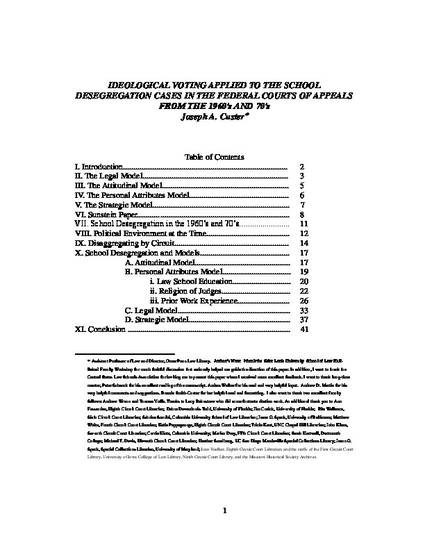 Unpublished Paper
Ideological Voting Applied to the School Desegregation Cases in the Federal Courts of Appeals From the 1960's and 70's
ExpressO (2013)
Abstract
This paper considers a research suggestion from Cass Sunstein to analyze segregation cases from the 1960's and 1970's and whether three hypothesis he projected in the article "Ideological Voting on Federal Courts of Appeals: A Preliminary Investigation," 90 Va. L. Rev. 301 (2004), involving various models of judicial ideology, would pertain. My paper considers Sunstein's three hypotheses in addition to other judicial ideologies to try to empirically determine what was influencing Federal Court of Appeals Judges in regard to Civil Rights issues, specifically school desegregation, in the 1960's and 1970's.
Keywords
attitudinal model,
strategic model,
personal attributes model,
social background model,
legal model,
ideological amplification,
ideological dampening,
ideology,
judges,
measures of ideology,
panel effects,
empirical,
civil rights,
constitutional,
desegregation,
segregation,
school desegregation
Publication Date
February 28, 2013
Citation Information
Joe Custer. "Ideological Voting Applied to the School Desegregation Cases in the Federal Courts of Appeals From the 1960's and 70's"
ExpressO
(2013)
Available at: http://works.bepress.com/joe_custer/1/