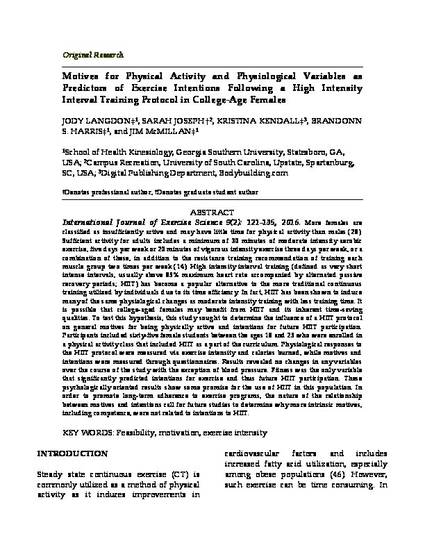 Article
Motives for Physical Activity and Physiological Variables as Predictors of Exercise Intentions Following a High Intensity Interval Training Protocol in College-Age Females
International Journal of Exercise Science
Abstract
International Journal of Exercise Science 9(2): 121-135, 2016. More females are classified as insufficiently active and may have little time for physical activity than males (28). Sufficient activity for adults includes a minimum of 30 minutes of moderate intensity aerobic exercise, five days per week or 20 minutes of vigorous intensity exercise three days per week, or a combination of these, in addition to the resistance training recommendation of training each muscle group two times per week (14). High intensity interval training (defined as very short intense intervals, usually above 85% maximum heart rate accompanied by alternated passive recovery periods; HIIT) has become a popular alternative to the more traditional continuous training utilized by individuals due to its time efficiency. In fact, HIIT has been shown to induce many of the same physiological changes as moderate intensity training with less training time. It is possible that college-aged females may benefit from HIIT and its inherent time-saving qualities. To test this hypothesis, this study sought to determine the influence of a HIIT protocol on general motives for being physically active and intentions for future HIIT participation. Participants included sixty-five female students between the ages 18 and 25 who were enrolled in a physical activity class that included HIIT as a part of the curriculum. Physiological responses to the HIIT protocol were measured via exercise intensity and calories burned, while motives and intentions were measured through questionnaires. Results revealed no changes in any variables over the course of the study with the exception of blood pressure. Fitness was the only variable that significantly predicted intentions for exercise and thus future HIIT participation. These psychologically oriented results show some promise for the use of HIIT in this population. In order to promote long-term adherence to exercise programs, the nature of the relationship between motives and intentions call for future studies to determine why more intrinsic motives, including competence, were not related to intentions to HIIT.
Citation Information
Jody L. Langdon, Sarah Joseph, Kristina L Kendall, Brandonn Harris, et al.. "Motives for Physical Activity and Physiological Variables as Predictors of Exercise Intentions Following a High Intensity Interval Training Protocol in College-Age Females"
Available at: http://works.bepress.com/jody_langdon/84/