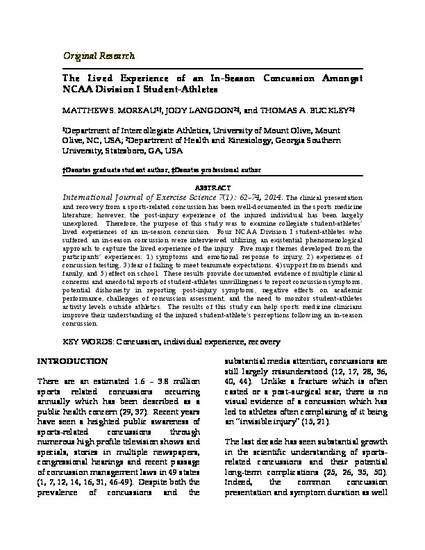 Article
The Lived Experience of an In-Season Concussion Amongst NCAA Division I Student-Athletes
International Journal of Exercise Science
Abstract
International Journal of Exercise Science 7(1) : 62-74, 2014. The clinical presentation and recovery from a sports-related concussion has been well-documented in the sports medicine literature; however, the post-injury experience of the injured individual has been largely unexplored. Therefore, the purpose of this study was to examine collegiate student-athletes' lived experiences of an in-season concussion. Four NCAA Division I student-athletes who suffered an in-season concussion were interviewed utilizing an existential phenomenological approach to capture the lived experience of the injury. Five major themes developed from the participants' experiences: 1) symptoms and emotional response to injury, 2) experiences of concussion testing, 3) fear of failing to meet teammate expectations, 4) support from friends and family, and 5) effect on school. These results provide documented evidence of multiple clinical concerns and anecdotal reports of student-athletes unwillingness to report concussion symptoms, potential dishonesty in reporting post-injury symptoms, negative effects on academic performance, challenges of concussion assessment, and the need to monitor student-athletes activity levels outside athletics. The results of this study can help sports medicine clinicians improve their understanding of the injured student-athlete's perceptions following an in-season concussion.
Citation Information
Matthew S Moreau, Jody L Langdon and Thomas A Buckley. "The Lived Experience of an In-Season Concussion Amongst NCAA Division I Student-Athletes"
Available at: http://works.bepress.com/jody_langdon/38/